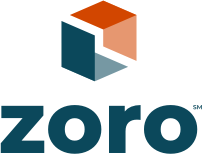 Zoro
Zoro
Zoro is dedicated to providing All You Need to Make Your Business Go. We're an eCommerce supplier that is working to become the largest, most convenient online destination for everything a business needs—from the everyday essentials to the hard-to-find items.

Zoro provides breadth. At Zoro.com, businesses and individual consumers search quickly and easily among thousands of brands and millions of products, all offered at competitive prices. We've combined an endless assortment of items into one easy-to-shop website.

Zoro offers simplicity. Our aim is to provide an enjoyable online shopping experience that makes our customers' jobs easier. They associate Zoro.com with a feeling of satisfaction, knowing they'll find and receive the right supplies and equipment quickly, with free shipping on orders of $50 or more.

Zoro delivers confidence. For our customers, Zoro.com means getting the right stuff, every time, at reasonable prices with no delays, interruptions, mysteries, or hassles. If our customers feel the need to reach out to us on the phone, they'll talk to knowledgeable, caring, and dedicated customer service professionals.
Headquarters
Buffalo Grove, IL
Employees
497 US Employees
Industry
Industrial / Commercial Supplies