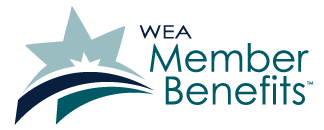 WEA Member Benefits
WEA Member Benefits
For over 50 years, WEA Member Benefits has been helping Wisconsin public school employees and their families achieve financial security by providing personal insurance, retirement and investment, and financial planning programs that are designed specifically for the education community.
Purpose
Over 50 years ago, we were created by Wisconsin educators for Wisconsin educators. No other financial organization can say this.

The creation of WEA Member Benefits was the solution born out of the determination of Wisconsin public educators who saw a need for a trusted resource to guide them through their financial journey. They sought unbiased financial education, products, and services provided with their best interests in mind, and a partner who understood their values and needs and treated them with respect.
Vision
Every member financially secure.
Mission
To support the mission of WEAC by enhancing the financial security of eligible individuals with best-of-class personal benefit programs that are developed and delivered with integrity, sensitivity, and reliability.
Company Snapshots