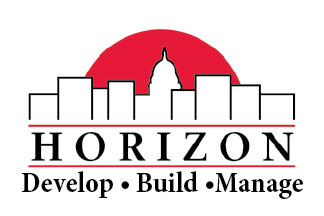 Horizon Develop Build Manage
Horizon Develop Build Manage
Horizon Develop Build Manage (Horizon) is a Wisconsin-based group of companies specializing in integrated development, construction, and property management services. Horizon has steadily built a reputable portfolio within multiple industries based on our core values of honesty, respect, integrity, and compassion.
Purpose
DEVELOP with shared vision
Horizon offers a full service development approach and treats every project as if it was our own. All projects follow a comprehensive development checklist ensuring schedule efficiency, team consensus, and overall project feasibility. Working in this format helps to keep each project on task and avoid common pitfalls that cost clients time and money.

Many people associate developing a project with a blueprint, but true development is much more than that. Horizon's comprehensive development services include, but are not limited to:

Project visioning
Strategic analysis and market research
Deal structuring
Financing
Team building and coordination
Site analysis, selection and planning
Architectural and engineering services
Entitlement process management
BUILD with proven expertise
As owners ourselves, we know how important it is to build for the long term. Quality building is intelligent building. We know where you can save money today and make smart decisions for tomorrow. We'll choose the best materials at the best price, manage a competitive bid process and provide project reporting so you will know the status of the project every step of the way. You can rely on our proven expertise to deliver quality workmanship that will meet or exceed your expectations.

Horizon's construction services include, but are not limited to:

Preconstruction budgeting
Value engineering
Owner representation
Integrated design-build or design-assist
General contracting
Construction management
Project commissioning
MANAGE for profitability
As property managers and owners, we know firsthand how our management decisions affect the bottom line. We understand the need to constantly monitor leasing efforts, set performance goals, and compensate our people based on results. As property managers, we know what products work best to help keep maintenance costs down. As our client you reap the benefits of our experience and research. We make your goals our goals.

Horizon's management services include, but are not limited to:

Property management
Financial analysis and accounting services
Leasing and marketing services
Service contract management
Building and grounds maintenance services
Entitlement compliance

Integrated Services. Resourceful Solutions.
Vision
The vision we provide every project is built upon our own set of values.

Honesty - Respect - Integrity - Compassion

As property owners, we know what it means to be in your shoes: to count on people to look out for you, to value people who stand behind their promises. As an employer, we know that to keep great people, it's our responsibility to provide opportunities for growth, reward quality service and cultivate an atmosphere in which people can flourish.

As corporate citizens, we give back to our community in appreciation for giving us the opportunity to grow and prosper.

Our commitment to you is simple: we'll do it right. That's how we develop, build, and manage. We view your business as our business.
Mission
Our Mission is to surpass expectations of our customers through unparalleled service and our core values.
Additional Culture Details
Horizon has established a reputation unsurpassed in the Design Assist and Property Management industry by adhering to our core values of Honesty, Respect, Integrity, and Compassion. These values apply not only to our day-to-day dealings with our external customers but our internal customers as well as our employees.
Employees
131 US Employees
Industry
Building Construction
We're Hiring!