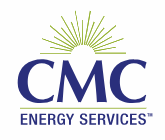 CMC Energy Services
CMC Energy Services Overview
Purpose
CMC promotes energy efficiency locally and nationwide, with an emphasis on helping the neediest customers cut their energy costs. Our programs help people and businesses to save energy and money and deliver broad economic, energy, environmental, public health, and employment benefits.
Vision
A more livable and sustainable planet for all.
Mission
We empower our communities through energy efficiency and clean energy for a more comfortable and affordable future.
Values
You Before I
:
Humbly Serving
Nurturing Our Planet
:
Building a Sustainable Future
Doing It Right
:
Pursuit of Excellence
Out In Front
:
Innovation + Leadership
United In Our I.D.E.A.S.
:
Inclusion, Diversity, Equity, Access
Bringing The Energy
:
Creating a Joyful Workplace
Headquarters
Fort Washington, PA
Employees
268 US Employees
Industry
Energy Efficiency
Awards
Top Workplaces Regional Awards
Company Snapshots