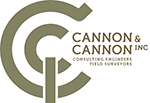 Cannon & Cannon, Inc.
Cannon & Cannon, Inc.
Cannon & Cannon, Inc. (CCI) is a highly successful and experienced consulting engineering and field surveying company.CCI is a Woman Owned Small Business, certified by the National Woman's Business Enterprise Certification and provides extensive experience in multiple service sectors. These include Field Surveying, Public Utilities, Stormwater & Environmental, Transportation and Public Works, Site Development, and Construction Phase Services
Purpose
Conduct business with uncompromising integrity, see our client's challenges as our own, deliver what we promise, when we promise it, run toward challenging projects, fuel the potential of our employees and invest generously in the communities we serve.
Vision
To improve the quality of life for every person who comes in contact with our projects and fully appreciate how doing so enhances our own lives.
Mission
To develop a complete understanding of our clients challenges and provide them with outstanding engineering solutions.
Additional Culture Details
As a whole, Cannon & Cannon's principles encompass our community and the families our community supports. Our attention to the Client, the Company, and the Community is what gives these principles life.
Awards
Top Workplaces Regional Awards