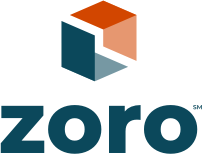 Zoro
Zoro
Zoro is dedicated to providing All You Need to Make Your Business Go. We're an eCommerce supplier that is working to become the largest, most convenient online destination for everything a business needs—from the everyday essentials to the hard-to-find items.

Zoro provides breadth. At Zoro.com, businesses and individual consumers search quickly and easily among thousands of brands and millions of products, all offered at competitive prices. We've combined an endless assortment of items into one easy-to-shop website.

Zoro offers simplicity. Our aim is to provide an enjoyable online shopping experience that makes our customers' jobs easier. They associate Zoro.com with a feeling of satisfaction, knowing they'll find and receive the right supplies and equipment quickly, with free shipping on orders of $50 or more.

Zoro delivers confidence. For our customers, Zoro.com means getting the right stuff, every time, at reasonable prices with no delays, interruptions, mysteries, or hassles. If our customers feel the need to reach out to us on the phone, they'll talk to knowledgeable, caring, and dedicated customer service professionals.
Purpose
Zoro makes it easy for our customers to find everything they need to run their businesses. We stand out by offering a huge assortment of products at competitive prices—all supported by our exceptional U.S.based customer service team.
Mission
Zoro's mission is to make our customers' jobs easier. From everyday essentials to hard-to-find items, we're becoming the largest, most convenient online destination for everything our business customers need. That's why we combined an endless assortment of items into one easy-to-shop site with competitive pricing. It's also why we offer free shipping on orders over $50, no-hassle returns, and customer service from people who care.
Additional Culture Details
Everything we do at Zoro is centered around caring for our customers. It's a natural extension of our company culture and how we care for each other. As a Zoro employee, you can expect to work with smart, energetic people; learn something every day; and be valued for your perspective. Some other things that make Zoro a differently great place to work include: benefits you would expect from one of the "big guys"; sharing in the company's success with performance-based bonuses; key metrics that are shared with everyone (sales, earnings, successes, failures); company meetings led by a different staff member each week; and an openness to try new business ideas. You'll also notice that your coworkers are walking Zoro billboards — our swag game is unmatched, we give away branded T-shirts, hoodies, Blackhawks hats (we're a sponsor), Yeti mugs, and laptop bags (just to name a few).
Values
Win & Learn Together

We celebrate our achievements and learn from challenges.
Employees
630 US Employees
Industry
Industrial / Commercial Supplies
We're Hiring!
Company Snapshots