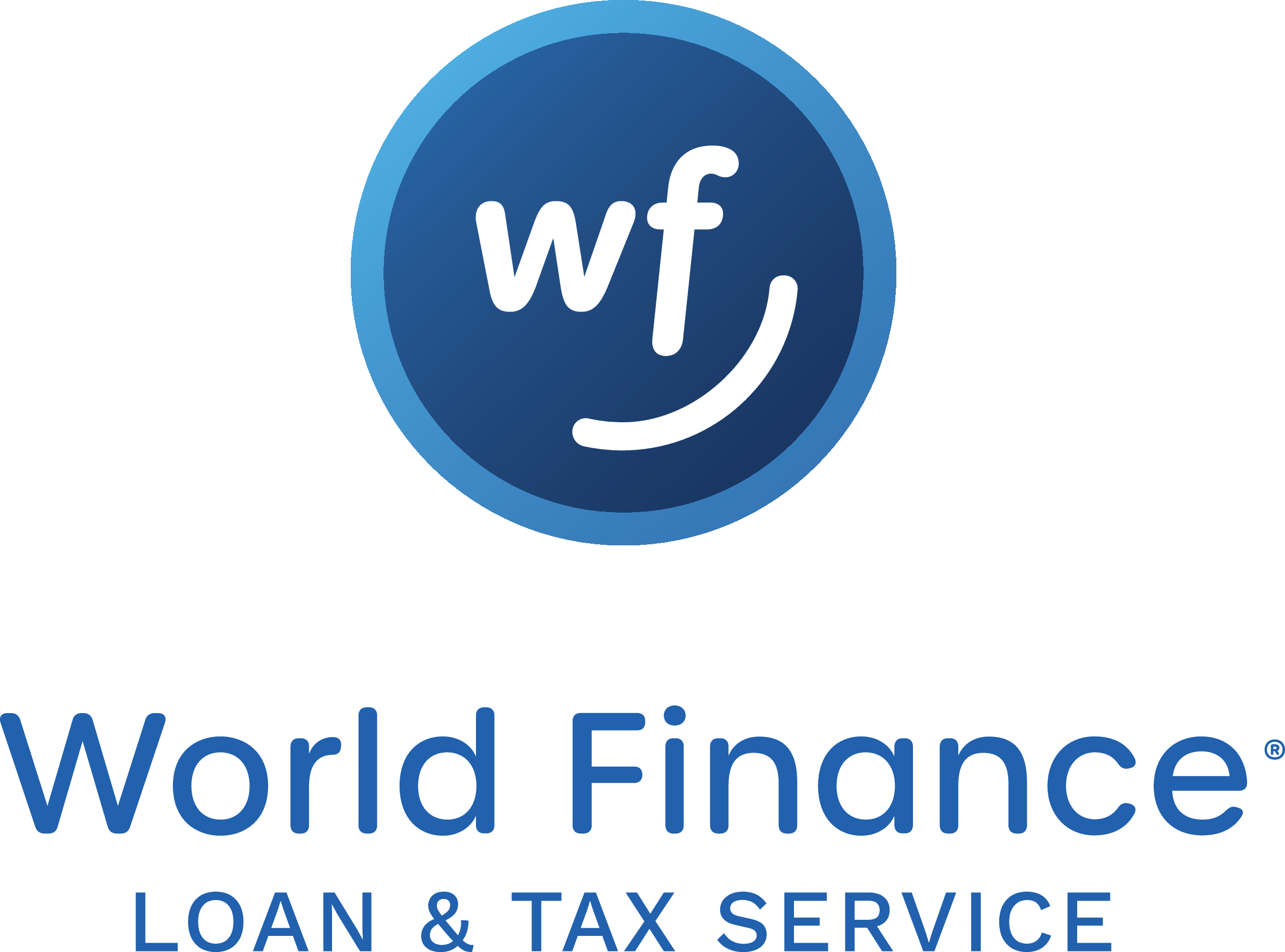 World Finance
World Finance
At World, we're proud to be the financial partner with heart, helping people unlock their financial good since 1962. Our team members make things happen for our customers, and we make things happen for them. We pride ourselves on amazing management, an energetic work culture, and lots of opportunities for growth. As a company, we're committed to care, teamwork, and community. For more information, visit www.loansbyworld.com.
Purpose
At World Finance, we help hundreds of thousands of customers achieve mainstream credit each year through personal loans, tax services, and overall financial wellness.
Vision
We strive to be the financial partner with heart, turning financial possibilities into reality.
Mission
We believe in possibilities for our customers and team alike. Our values shape our work: we care, we adapt, we're better together, and we make it happen. We're dedicated to opening all kinds of doors – to financial wellness, to career growth, and to stronger communities.
Additional Culture Details
Our team is committed to care, both internally and toward our customers. We pride ourselves on excellent management, an energetic culture, and opportunities for growth.
Headquarters
Greenville, SC
Employees
3,101 US Employees
We're Hiring!
What employees are saying
I have been here 25 years and this company has been so good to me. I love World Finance because you feel like family here. The company allows you to move up from the inside and that is so awesome. . I still feel as excited today about coming as I did 25 years ago.
I love being able to help people in a time of need, and I love the amazing work family that I have. They have helped me by leaps and bounds through multiple situations.
I get to help people "get back to the good"
I have been with the company for many years and have always felt respected and motivated. I feel we have the tools to make a great living for our families and are motivated to do so. We have opportunities to move up in the company as well.
I love what I do. I enjoy helping our customers and fellow team members
I get to help people when they are in need, my manager and team are amazing.
I am valued as an employee
The culture is energetic, creative, and super friendly - executives are open to all ideas from any source and encourage even entry level team members to help improve the company. It's a very positive and collaborative place to be.
I CAN ALWAYS LEARN NEW THINGS, I AM ENCOURAGED TO THINK AND COME UP WITH PROBLEM SOLVING IDEAS AND TO SHARE THOSE IDEAS WITH MY MANAGER, AND DISTRICT MANAGER. I CAN SUPPORT MY FAMILY WITHOUT GIVING UP PRECIOUS TIME WITH THEM.
I have the flexibility to balance my work life and home life which is important because I have a little one that I like spending time with.
I love the people I work with, I feel challenged daily, and I'm fulfilled with the work I'm doing.
I love my job because my mangers are great supporters and always push for us to do our best and provide positive vibes and good thoughts each day when coming into work.
It has allowed me to grow as an individual and grow as a team member. It allows me to be challenged and also challenge myself.
It allows me the opportunity for personal growth and to advance my career with World as well as help others.
I love my job because World gives us the freedom to impact change in our company. I'm allowed to come up with ideas and generally feel they are heard, I never want to work anywhere else. I would do anything for this company.
The flexibility to be able to have a work life balance. I enjoy coming to work everyday. I feel like I am surrounded by a village of people to help lead me to growth. I overall am completely happy to be an employee of World.
World Finance motivates me to be a better person. They make sure we understand everything that's going on, the changes are here to help us. They are making all these changes so they know we can live life the way we need
I love my team members and the team work. We are all willing to jump in and help anyone in need. I like that World finds ways to incorporate all cultures and celebrate them. I love the positivity on my team and with World.
We get to help out others with their financial needs and have fun at the same time. work does not feel like work most of the time.
I have the opportunity to grow and move up within the company at my own pace. The support system is wonderful within the company.
Company Snapshots