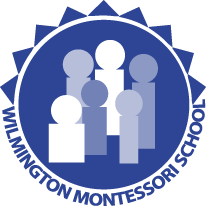 Wilmington Montessori School
Wilmington Montessori School
Wilmington Montessori School, founded in 1964, is an American Montessori Society-accredited independent school serving children from 12 months old through eighth grade.

In addition to school-day programming, WMS offers child care (before/after school and on days when school is closed), a robust summer camp program open to the community professional development for educators, and a variety of parent education programs.
Purpose
Delaware's oldest and largest independent Montessori school, educating children ages 12 months through eighth grade
Mission
Wilmington Montessori School is a collaborative learning community rooted in Montessori principles, inspiring the joyful discovery of self and a passion for learning and independent thinking. We empower children to be knowledgeable and responsible contributors to the global community.
Values
Education for Life

Through an authentic, rigorous and forward-thinking Montessori curriculum, our students learn habits and skills that enable them to reach their full potential in future schooling and most importantly throughout their lives. Our graduates are confident, self-directed learners who are able to think critically, work collaboratively and act responsibly.
Company Snapshots