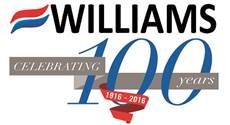 Williams Comfort Products
Williams Comfort Products
Williams Comfort Products is a designer, manufacturer and distributor of heating, ventilating and air conditioning products designed for the comfort for both the home and business. It all started in 1916, when Williams began building gas steam radiators in Los Angeles. Williams' commitment to quality was clear from the start, and the company's product lines have continued to expand.

All Williams' products are tested to the highest standards. Engineering, R&D, testing and manufacturing take place at our factory in Colton, California.

Values at Williams begin with our employees, customers and suppliers. We strive each day to treat those involved with Williams with respect while performing our duties with integrity. We put a premium on those values to best serve our industry in a manner that will deliver quality in everything we do. The phone call, the e-mail, the meeting, along with our products and the service, are designed to deliver these values as no one else does and to do it consistently each day.

That's the Williams way.
Additional Culture Details
This is an interesting question, because our company culture is actually a mix of our company values and those values of our long term employees. Nearly 50% of our employees have worked at Williams for more than 10 years. Approximately 20% of our employees have worked here for over 20 years. And 10 percent of our employees have been with us for over 30 years. With this type of employee commitment and dedication, it is easy to see that our company culture is a combination of values from both our employees and our president's direction. As noted above, respect, integrity, quality and value are what makes Williams a great place to work. Our long term employees take it upon themselves to instill these values into our newer employees, ensuring another 100 years of success in a highly competitive market. In a time when the word TEAM has become a cliché, our employees exemplify the meaning through their commitment, shared values, and support of the company and one another.
Company Snapshots