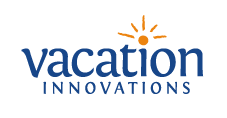 Vacation Innovations
Vacation Innovations
Founded in 1999, Vacation Innovations is a leading provider of travel-related products, software and services. Leveraging advanced digital marketing strategies, sophisticated software solutions, and decades of experience in vacation ownership, VI brings new vacation opportunities to a diverse audience of novice and seasoned travelers alike. The Vacation Innovations family of brands offers a wide range of travel services, including simplified resort rentals, online advertising and marketing products for by-owner timeshare sales and rentals, licensed timeshare brokerage and title transfer services, as well as customized owner services and product solutions for timeshare resorts, resort developers, HOAs and timeshare management companies. Vacation Innovations is a proud member and supporter of the American Resort Development Association.
Purpose
At Vacation Innovations, we believe our people are our greatest assets. This mindset has played a significant role in our growth and success as a leader in the timeshare secondary market, and helped us earn recognition as a top employer in the industry.

With nearly 300 employees and more than two decades in operation, Vacation Innovations has grown into the world's largest provider of secondary market services and solutions for the vacation ownership industry. Our corporate headquarters, located in Orlando, Florida, positions us perfectly within the timeshare capital of the world, and we continually attract some of the best talent in the industry.

As Vacation Innovations continues to grow, we're looking for gifted individuals who enjoy a collaborative, results-focused environment.
Vision
To build long-term, incremental value within the travel industry through innovative products and partnerships.
Mission
To serve as a trusted partner within the travel industry, offering best-in-class travel services and industry-leading expertise in vacation ownership solutions for consumers and developers.
Additional Culture Details
Vacation Innovations was founded upon the principle of treating people with respect. We believe that principle comes with a responsibility that extends beyond the walls of our offices into the communities in which we work and live. As part of our corporate spirit of giving, we actively engage in supporting local charities and causes that address the crisis of homelessness and encourage our employees to do the same.

Our charity of choice is Miles To Go, a local organization founded by Miles Newbold, our CEO's son, with a focus on providing essential supplies to the homeless in Central Florida. In addition, Vacation Innovations CEO and Co-Founder Chad Newbold is active in several nonprofits focused on improving the lives of children and the homeless both locally and internationally. In support of these organizations, Chad has tirelessly helped raise money to build schools in developing countries and provide children in need with clothing, school supplies and other essentials.
Values
Guest Satisfaction

Each customer is our guest, and we want to ensure they leave satisfied at the end of their "stay" with us.
Employees
250 US Employees
Industry
Travel / Vacations
Company Snapshots