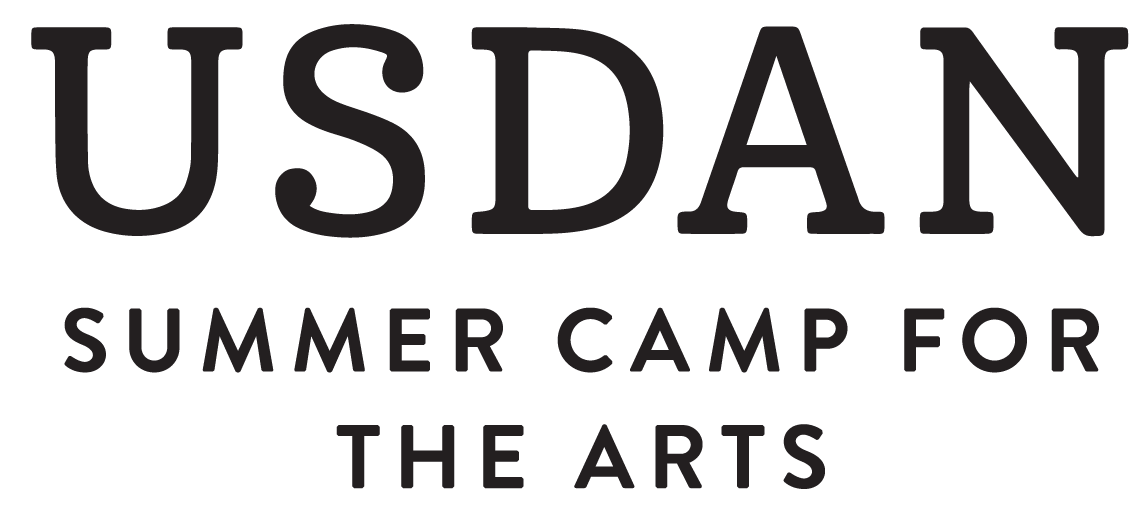 Usdan Summer Camp for the Arts
Usdan Summer Camp for the Arts
Usdan opens up a world for children to joyfully express their creativity and develop their artistic skills.

Each summer, we bring professional teachers and artists—actors, directors, playwrights, painters, sculptors, musicians, composers, dancers, poets, and novelists—to teach and collaborate with our campers ages 5 to 18 from Long Island and New York City.

Set on 140 acres of natural beauty, Usdan is a safe, welcoming place within which campers have the freedom to build new friendships, explore nature, develop personal independence, and have fun, alongside their art making.
Mission
Usdan provides young artists the opportunity to joyfully express themselves through their creativity. Our inclusive community is guided by Jewish values upon which we were founded over half a century ago. Each summer we welcome a diverse group of children and teenagers to our stunning campus in the woods. In partnership with visiting artists and talented educators, students at all levels and from all backgrounds explore paths that lead to individual and artistic growth. Here we emphasize that developing skills and discovering the creative process is as fulfilling as showcasing artistic achievement. Usdan serves the youth of New York City and Long Island, though the impact of our alumni extends far beyond our region. Our goal is to instill in young people a desire and drive to contribute creatively to the world now and for the rest of their lives.
Additional Culture Details
We believe that the most critical aspect of maintaining the singularity of the Usdan summer experience is the faculty's incredible work with our students. Our expectations for our staff are as high as our belief in every student.

The result: A faculty composed of skilled educators and working creative artists from across disciplines and departments – from visual and performing arts to non-arts faculty including recreation teachers and many administrative staffers. This team that brings real world experience, an artistic sensibility, and professional connections to campus every day.

Usdan's core principles are in practice as an innate part of the camp experience. They come through in every lesson plan, experiment, and performances, and embed themselves in our students' view of the world year-round. We offer a highly flexible plan of Usdan's teaching philosophy and strategy in order to maintain the camp's core creative principles of skill, play, community, nature, collaboration, diversity, voice, and design.

From leading with inquiry and exploration, cultivating a classroom environment that is fun and engaging; pushing students to explore and reflect on their crafts and the rigorous exploration of new ideas to grow as a teacher and artist.
Values
A Camp of Creators

Campers show up every day excited to create. They're given true agency to harness their voice and genuine opportunity to develop their own artistic perspective and style. We bring exceptional teachers and visiting artists—actors, directors, playwrights, painters, sculptors, musicians, composers, dancers, poets, and novelists—to teach and collaborate with Usdan campers. Programs allow students to dive deeply into a single discipline while also exploring across multiple disciplines. Campers have the space to feel both safe and independent enough to push existing passions and to delve into new ones. Many of our alumni, like Natalie Portman and Mariah Carey, will go on to become professional actors, singers, dancers, conductors, and producers. Others will become professional arts educators. What nearly all of our 40,000 alumni tell us is that Usdan shaped them no matter what career they ultimately pursue. As we say at Usdan, "Lose yourself for a summer. Find yourself for a lifetime."
Company Snapshots