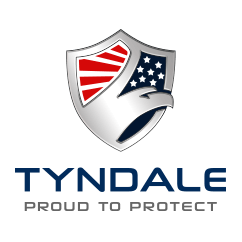 Tyndale Company, Inc.
Tyndale Company, Inc.
Tyndale is a service-based company offering turnkey Managed Flame Resistant Apparel Programs to leading companies and their subsidiaries, including 20 in the Fortune 500. Tyndale offers a full line of custom value-added services, including company-unique catalogs, websites, order forms, garments, reports, and invoices. Tyndale's status as both a manufacturer of USA-made quality Flame Resistant garments, in addition to a distributor of popular Flame Resistant brands such as Carhartt and Bulwark, allows us to offer a full line of top-quality garments to maximize employee choice.
Mission
To provide an enjoyable uniform experience by supplying increasingly personalized, coordinated and convenient flame resistant apparel solutions to leading corporations and their employees.
Values
The Customer

Each and every decision at Tyndale is made according to its impact on our existing and potential customers. We strive for internal efficiency, but never at the expense of the long term satisfaction of our customers.
Headquarters
Pipersville, PA
Employees
382 US Employees
Industry
Clothing, Footwear, & Accessories