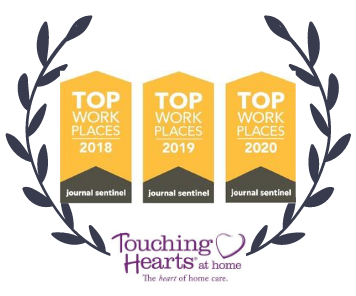 Touching Hearts at Home
Touching Hearts at Home
Touching Hearts at Home provides non-medical home care services for older adults, seniors, and people with medical conditions and/or disabilities.

We support people living in the community by setting them up with services from one of our compassionate caregivers. Our caregivers are trained professionals with a heart for helping. The services they provide, like assisting with showering, housekeeping and grocery shopping, don't sound extraordinary but they are. These supportive services are what keep people living in their own homes while maintaining their dignity and quality of life.
Purpose
Touching Hearts at Home is committed to helping older adults and people living with medical conditions
and disabilities enhance their quality of life and remain at home for as long as possible. We dedicate
ourselves to setting the standards of excellence within our industry.
Vision
We value bringing quality, safety, and companionship to the lives of our clients. We believe helping people
is a gift that we respectfully receive and give back with great integrity. Our service is built on these core
values.
Mission
Touching Hearts provides exceptional home care to our seniors and individuals with disabilities by hiring
the highest quality, most dependable caregivers. We pride ourselves in the communication we facilitate
between our staff, families, and administrative team.
Additional Culture Details
We are an employee focused organization! By hiring the best people and treating them exceptionally well will in turn, reflect on the care our clients (seniors) receive.
Values
Compassion

Our sympathy for our clients and their situations calls us to action