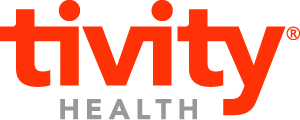 Tivity Health
Tivity Health
At Tivity Health®, we work hand-in-hand with members, clients and healthcare partners to create everyday opportunities for long-lasting health and vitality. Our flagship brands — SilverSneakers®, Prime® Fitness, Burnalong® and WholeHealth Living® — are sought after by consumers and organizations alike not simply because they work, but because we care.

We proudly welcome the opportunity to offer complete and integrated solutions to a healthier life. We meet consumers where they are, empowering them to take meaningful steps toward a healthier, happier, more productive life. Our solutions are especially designed to address the greatest health barriers adults face today—and the new challenges they'll encounter tomorrow.
Purpose
Engaging people, partners and communities in a shared mission to improve health outcomes and reduce healthcare costs. Empowering members at every age and stage of life to enjoy greater physical activity, connectivity and productivity.
Vision
Healthier, happier, more connected lives.
Mission
To empower people, communities and partners through a shared passion to improve health and support life's journey.
Additional Culture Details
Tivity Health is committed to diversity in the workplace and was recognized as a 2023 Employer Member by Diversity Jobs.
Values
We embody healthier living

We have a passion for health and create opportunities to improve lives. We are a trusted and caring leader, partnering to deliver results with meaningful impact.
Employees
550 US Employees
Industry
Healthcare - Other
We're Hiring!
What employees are saying
There is something new to learn continuously and I work with amazing people.
I am able to see on a daily basis the impact our company has on individuals' lives. We help empower people enabling to live their best lives.
I feel empowered by my leader and autonomous to make decisions
Company Snapshots