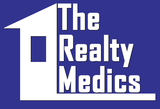 The Realty Medics office
The Realty Medics office
We are a full service real estate brokerage that specializes with the acquisition and management of single family homes for our clients. Using technology we built our team is able to maintain the highest quality customer service which leads to excellent cash flowing real estate properties for our investors and a great living experience for our tenants.
Purpose
To engineer a positive property management experience.
Vision
Keeping our investor's investments cash flow positive for ever.
Mission
To sell our investors properties that produce cash flow, manage their properties to ensure the investments meet their expectations.
Company Snapshots