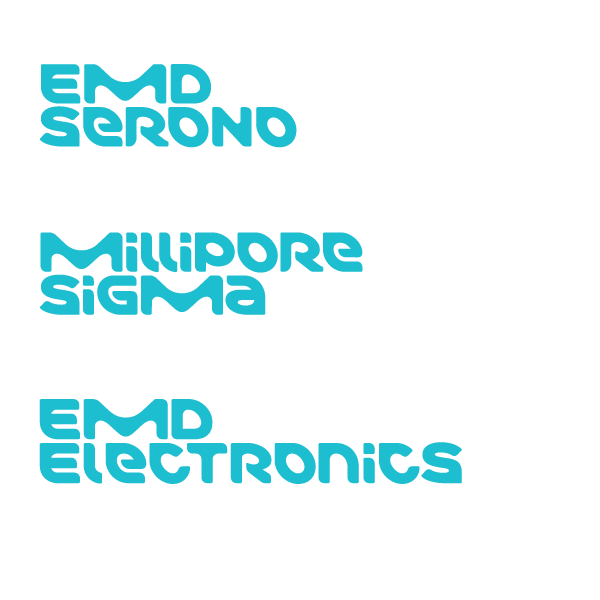 MilliporeSigma/EMD Serono/EMD Electronics
MilliporeSigma/EMD Serono/EMD Electronics
Merck KGaA, Darmstadt, Germany, is a leading science and technology company in healthcare, life science and electronics. Over 50,000 employees work to further develop technologies that improve and enhance life – from biopharmaceutical therapies to treat cancer or multiple sclerosis, cutting-edge systems for scientific research and production, to liquid crystals for smartphones and LCD televisions.
Purpose
To harness the power of science and technology to create, improve, and prolong life.
Vision
MilliporeSigma, EMD Serono, and EMD Electronics, the U.S.-based businesses of Merck KGaA, Darmstadt, Germany, the world's oldest pharmaceutical and chemical company, comprised of three unique businesses inthe U.S. focused on life sciences,healthcare, and electronics.
Mission
At MilliporeSigma, EMD Serono and EMD Electronics, we take a closer look at things, ask questions and think ahead. Since 1668 we have been developing high-quality products for a better life. Curiosity and a spirit of discovery make us who we are. Our work is also defined by our long-term strategy which brings benefits to our customers, investors, partners and employees.
Additional Culture Details
Science is at the heart of everything we do. It drives the discoveries
we make and the technologies we create.
We make a positive difference to millions of people's lives every day.
Our constant curiosity and specialist approach drive our partnerships
and bring new ideas to life. From advancing gene editing technologies
and discovering unique ways to treat the most challenging diseases
to enabling the intelligence of devices. Our work is fueled by our belief in science as a force for good. We
work to enhance the human experience and create more joyful and
sustainable ways to live.
We are here for people at every step, helping to create, improve and
prolong life. We deliver personalized treatments for serious diseases
and enable people to achieve their dream of becoming parents.
We empower the scientific community. Our tools, services and digital
platform make research simpler, more exact, and help to deliver
breakthroughs more quickly. Our solutions accelerate access to health
by assuring tests are accurate and the medicine we take can be trusted.
We brighten the world around us. Our science sits inside technologies
that are changing the way we access and display information. We are
making future mobility safer, homes and devices smarter and technology
more sustainable.
We believe that scientific exploration and responsible entrepreneurship
are key to technological advances that benefit us all.
Headquarters
Burlington, MA
Employees
12,977 US Employees