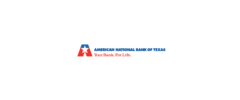 American National Bank of Texas
American National Bank of Texas
American National Bank of Texas (ANBTX), founded in 1875, is one of the oldest and largest independently owned banks in the state. With assets of more than $4 billion, the bank has over 30 locations throughout North Texas. ANBTX offers all the expertise and business and personal banking solutions of a national institution combined with the service and support of a community bank. We strive to provide the best banking experience for our customers, with a relationship-first approach and focus on delivering the tools and technology to help our customers bank safely, securely, and easily. Our vision, built on our long Texas heritage and commitment to our customers, is the driving force behind our work. ANBTX also provides individual and corporate trust, investment, and estate planning services through its Wealth Management Group. For twelve consecutive years, ANBTX has been ranked highly in the Top 100 Places to Work by the Dallas Morning News.
Purpose
To make our local communities stronger by making businesses stronger.
Vision
To be the preferred financial choice for consumers and businesses in our local markets while focusing on building relationships and adapting to the changing needs of our communities and stakeholders.
Mission
To be an independent community bank—guided by our values—that fosters the growth of our stakeholders:
•    Our Customers: Build loyal relationships by excelling in understanding the needs and expectations of our clients and delivering superior value.
•    Our Communities: To make our communities a better place to live and work through effective community involvement and reinvestment.
•    Our Employees: Foster a team-oriented work environment that attracts, empowers, and retains high-performance employees who demonstrate a commitment to our mission and values as well as personal and professional development.
•    Our Shareholders: To create long-term shareholder value through consistent quality growth in assets and earnings.
Additional Culture Details
We have a history of providing our employees and our communities with a strong sense of stability, growth and opportunity. We understand diversity, equity and inclusion is an essential part of our success and to the well-being of our employees and customers. ANBTX values teamwork and individual contributions. Employees think and act like shareholders – because they are. We believe strongly in work-life balance and personal growth. We make it attractive to work here and attractive to stay here.
Values
Commitment

We do what we say we'll do.