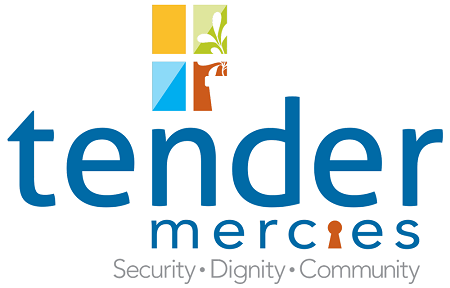 Tender Mercies
Tender Mercies
Tender Mercies provides permanent supportive housing to 150 formerly homeless adults with mental illness.
Purpose
The purpose of Tender Mercies is to provide permanent housing and supportive services for homeless adults with histories of severe mental illness. Our permanent supportive housing model addresses the root causes of homelessness, thereby preventing a return to the streets for our region's most vulnerable persons.
Vision
To be and be recognized as the premier provider of supportive housing in the region for homeless adults with mental illness.
Mission
Tender Mercies transforms the lives of homeless adults with mental illness by providing security, dignity, and community in a place they call home.
Values
Security

We strive to create an environment where personal and emotional safety is a priority. We recognize the challenges posed by our work and respond accordingly through well-maintained, safe, secure facilities, well-defined safety policies and procedures, and top-notch staff support and training.