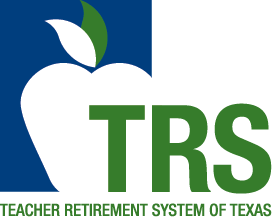 Teacher Retirement System of Texas
Teacher Retirement System of Texas Overview
The Teacher Retirement System of Texas is responsible for investing funds under its stewardship and for delivering benefits to members as authorized by the Texas Legislature. TRS is a defined benefit plan, with retirement benefits determined by a pre-established formula. The trust fund is sustained principally by three sources -- contributions by members during their working careers, contributions by the state, and investment revenues.

TRS is the largest public retirement system in Texas in both membership and assets. It is a $153 billion dollar trust and serves more than 1.5 million people.
Purpose
To manage the retirement benefits of 1.6 million public education employees and retirees.
Vision
Earning your trust every day.
Mission
Improving the retirement security of our members by prudently investing and managing the Trust assets and delivering benefits that make a positive difference in their lives.
Values
Customer Satisfaction

We focus on our customers, both external and internal, by ensuring that their needs are met and their expectations are exceeded.

Collaboration and Teamwork

We work together to achieve common goals through a diverse, yet unified team.

Accountability

We hold ourselves accountable and take responsibility for our actions, behavior and outcomes.

Respect

We treat each other with respect, fairness and kindness in constant pursuit of a trusting environment.

Ethics

We will be truthful and act with honesty and integrity in everything we do.

Excellence

We commit to demonstrating excellence in our work and look for ways to continuously improve.

Employee Fulfillment

We have a workplace where each employee has a strong sense of purpose, feels good about coming to work and is highly engaged.
Awards
Top Workplaces Regional Awards