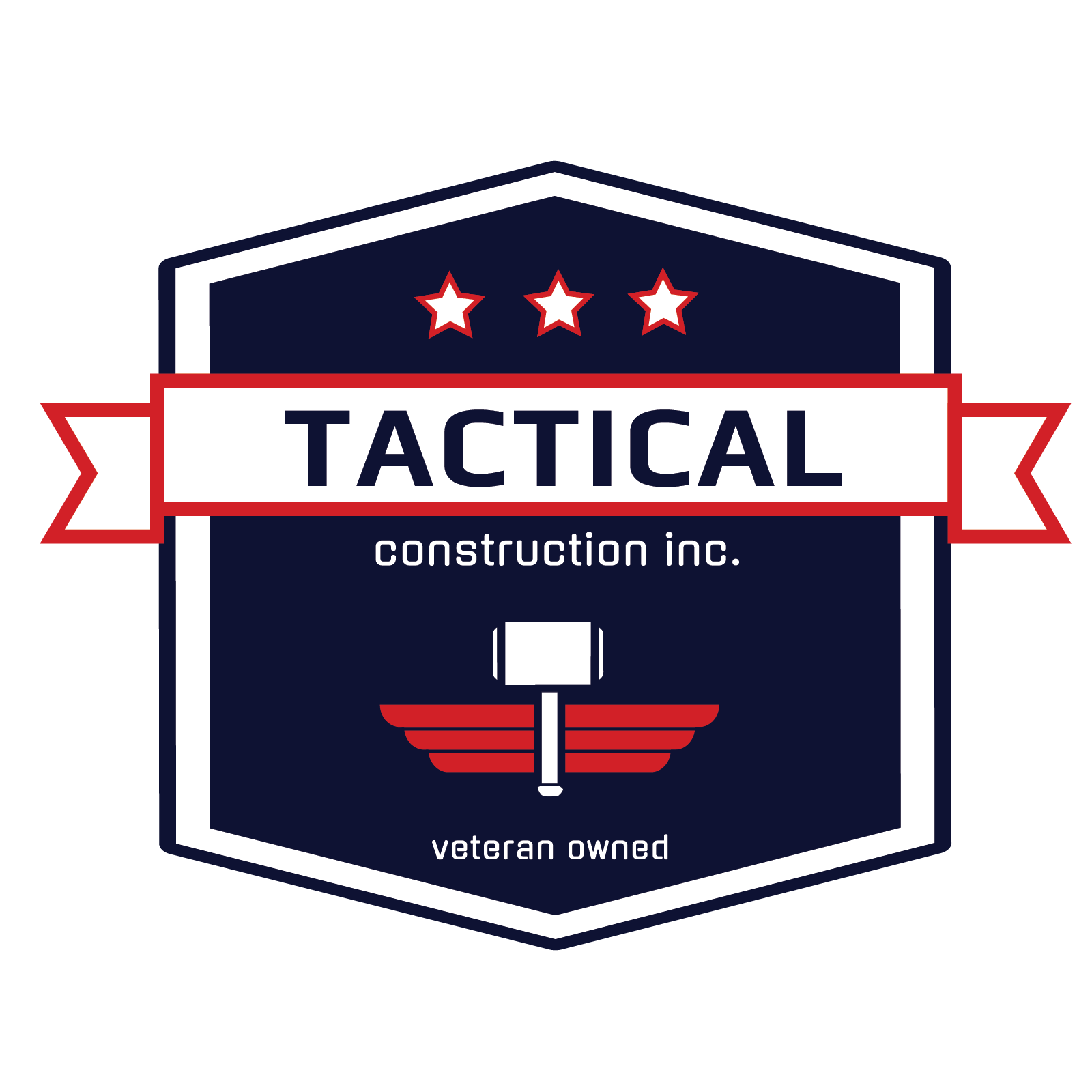 Tactical Construction
Tactical Construction
General and subcontractor specializing in framing and finishing construction projects, as well as residential remodels and additions. Newest specialty is flooring, such as glue removal and epoxy coating.
Purpose
Tactical Construction strives to provide an employee-friendly environment in which goal- oriented individuals thrive. Our company commitment to serving customers and providing quality products and services is unwavering. We provide a work environment in which both customer and employee interests are served. We meet our customer's needs by completing projects in a timely manner with exceptional craftmanship while creating a safe structure and beautiful finished product and we know this would not be possible without our awesome employees. We value our employee's talents, skills and abilities and seek to foster an open, cooperative, and dynamic environment in which we can all excel. Tactical Construction provides an environment where employees are encouraged to bring ideas and challenges to any level of management.
Vision
Tactical Construction will be the most respected construction company in upstate New York by demonstrating high standards of quality, safety, and collaboration, in all of our projects and relationships. We will strive to hire veterans, develop our people through continuous training, and offer a uniquely positive work culture. We will strive to build our people into the next generation of leaders at Tactical Construction, which is why we invest in our employees through training and development initiatives. We will continue to build on a solid reputation of honesty, integrity, and quality as we evolve into the most desirable company to work for, and partner with, in upstate New York.
Mission
Tactical Construction is a certified SDVOB (Service Disabled Veteran Owned Business) that specializes in providing high quality framing and finishing to our projects. Our primary focus is to partner with general contractors, to complete their projects on time, on budget, and with flawless customer service. Tactical Construction works year-round, and we are fully committed to safety, quality, and community service.
Additional Culture Details
Tactical Construction was opened in 2015, by CEO Matt Martin as part of his vision to help veterans and those who need a second chance find their way back to society, to use their skills, and rebuild their confidence. At Tactical, the leadership cares about helping people reach their full potential, grow their skills, and cultivate their leadership abilities.

We pride ourselves on our employee's on-going training and providing a safe work environment. Our safety program was developed to keep employees safe and our training provides staff with the skills they need to be successful.

The company is also proud to support the mission of NAWIC (National Association of Women in Construction) with multiple Tactical employees involved in the organization supporting women in the industry to help advance their careers, build their technical skills, and become leaders.

We know the importance of taking care of our employees and their families which is why our competitive pay and benefits package offers benefits rarely found in our industry. In addition to training, our employees enjoy paid time off, paid holidays, floating holidays, 401k with company match, as well as medical/dental/vision with a company contribution. As we grow, our pay and benefits packages will continue to grow as well!

Contact Tactical Construction at 585-905-8075 to request an application and learn more about joining our team!
Values
Honesty, Integrity, Safety & Accountability

Tactical Construction values honesty, integrity, safety and accountability. We value our veterans and their commitment to our country. We value our employees, who are the lifeblood of our success. We value the hard work they do every day through their dedicated and quality performance on behalf of our customers. We value our community and strive to contribute in unique ways. We value our personal and professional commitment to improving the lives of our employees to make this the most desirable employer in the industry.
Company Snapshots