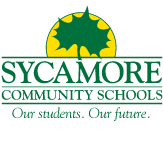 Sycamore Community Schools
Sycamore Community Schools
Sycamore is 1 of only 2 districts in Ohio to earn the highest rating from the state for 13 consecutive years.
SHS offers 223 courses, including 6 global languages and 20 Advanced Placement courses, and more than 130 extracurriculars, enabling students to explore a wide variety of interests and develop life skills. Several of these activities are financially supported by parent organizations. Students are also able to earn both high school and college credit through dual credit options.
For the 5th consecutive year, SHS students have exceeded the national average test score on the ACT.
Sycamore has been named one of the Best Communities for Music Education by the National Association of Music Merchants for 4 consecutive years.
Installation of energy conservation improvements has resulted in a cost decrease of almost $1 million per year.
The property tax rate paid by residents (33.23 mills) is the 4th lowest in Hamilton County along with our neighboring districts, Mason and Kings. The last property tax increase for operations was approved by the community in 2004.
Mission
The mission of the Sycamore Community School, a nationally recognized District offering unlimited opportunities for personal development and academic excellence, is to prepare each student for success in a global society, through a rigorous curriculum based on the highest standards, a caring and dedicated staff, and collaboration with and accountability to home and community.
Additional Culture Details
We believe that education is a lifelong process of learning which enables individuals to adapt to and improve a changing environment. Public education in the United States exists for the purpose of preparing individuals to be contributing members of the society. The American democratic way of life is dependent upon an enlightened, involved and concerned citizenry. Basic to the democratic way of life is the acknowledgment of the worth and dignity of each individual.