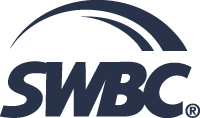 SWBC
SWBC
Headquartered in San Antonio, SWBC is a diversified financial services company providing a wide range of insurance, mortgage, and investment services to financial institutions, businesses, and individuals. With offices across the country, SWBC is committed to providing quality products, outstanding service, and customized solutions in all 50 states.
Vision
To be the recognized leader and most trusted business partner in the financial services industry.
Mission
Pioneering financial and insurance solutions through a winning combination of world-class service and revolutionary technology.
Additional Culture Details
SWBC offers Mentoring and Leadership programs as well as a robust Training and Employee Development program.
We recognize employees that have been employed with the company for five or more years of service as follows: 5 years = $200, 10 years = $400, 15 years = $600, 20 years = $1,000, 25 years = $1,300, and 30+ years = $1,600. We host annual Halloween Costume contests and other holiday parties as well as Employee Appreciation events.
Values
Integrity

Doing the right thing by conducting ourselves in a professional, honest, and ethical manner.
Company Snapshots