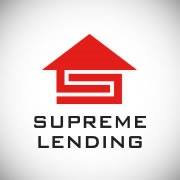 Supreme Lending
Supreme Lending
Supreme Lending is a mortgage banking company that was established in 1999. Our company strives to support our staff with flexible work schedules, great pay and benefits, and working to make the loan process superior to our competitors. We work together to provide a fun, supportive, honest and fair place to work. When we all work together to provide a supportive and strong work culture it will help us to support a more meaningful experience for everyone that we encounter during the process of a real estate transaction. With our expert mortgage professionals, we take pride in offering our customers a wide variety of loan products and are committed to helping them achieve their dream of home ownership.
Purpose
We understand that building a culture of actively engaged associates has a direct effect on creating satisfied customers, and associates at work and at home. Our priority, purpose, inspiration, and passion is delivering the industry's best customer experience by serving our clients a fast and smooth process - from application to closing.
Vision
At Supreme, we pride ourselves on being one of the top leaders in the Denver real estate market. Our vision is to be the BEST mortgage company, and our actions each day are driven by that vision. We strive to be described by our associates, our customers, our agent partners and our community - as Supreme!
Mission
We have a strong and and genuine belief in being our personal and professional best at work and at home. Our mission is to support one another through family & relationships, health & fitness, personal finance, fun & recreation, faith & community, and professional growth.
Additional Culture Details
As a team we try and communicate our priorities and values, we work hard together and and we play hard together. Our team culture is VERY important to us. Many associates travel together, camping trips, dinners, and are there for each other during milestones in our lives. The result of that is people love being a part of Supreme Lending, and it is reflected in the commitment that they display in the individual and team execution of their jobs, which ultimately creates an incredibly productive professional environment. While we are technically in the financial service business, we feel like we are in the people business. Our people are what make us Supreme!
Company Snapshots