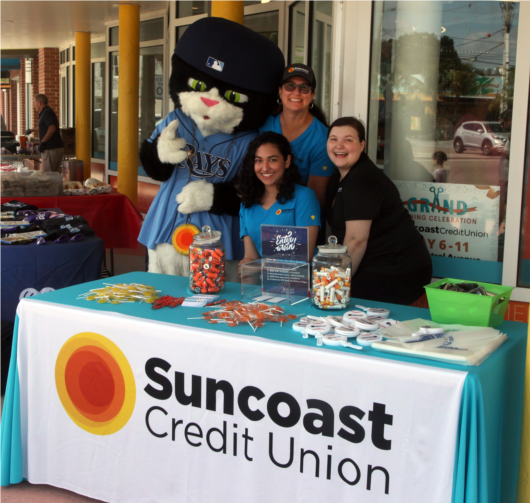 Suncoast Credit Union
Suncoast Credit Union
Suncoast Credit Union is the largest credit union in the state of Florida, the ninth largest in the United
States based on membership, and the 10th largest in the United States based on its more than $10 billion in
assets. Chartered in 1934 Suncoast currently operates 70 full-service branches and serves more than 870,000 members throughout the state of Florida.
Suncoast offers lower rates on loans, higher earnings on deposits, ATM access free of surcharges and more free services than traditional banks. Products and services include free checking, savings, money market, certificates, IRAs, TSAs, vehicle loans, credit cards, mortgages, home equity loans and lines of credit, trust and investment services, 403(b) accounts, IRAs, Health Savings Accounts and Deferred Compensation Accounts. Suncoast also offers services for businesses, including business deposit products, commercial loans and merchant services. Insurance and real estate services are also available through our Members Insurance Center and Suncoast Realty Solutions.
Purpose
To improve the financial lives of our members.
Mission
To improve the quality of our members' lives by maintaining a strong, secure and innovative credit union.
Additional Culture Details
Suncoast is proud to be a not-for-profit, financial cooperative that exists to meet the financial needs of our members.

Credit unions operate under the eight principles of a cooperative, which are:
✓Voluntary and open membership
✓Democratic member control
✓Member economic participation
✓Autonomy and independence
✓Financial education, training and information
✓Cooperation among cooperatives
✓Concern for the community
✓Diversity, Equity and Inclusion

All of our decisions at Suncoast are aligned with those core cooperative principles. When your money's in a bank, the profits on that money go to stockholders. But at a credit union, profits go to members.

Without a separate group of stockholders or private owners demanding a return on their investments, all net income is given back to the membership directly or set aside for reserves.

Since the members are the owners of a credit union, we're able to offer lower rates on loans, higher earnings on deposits and more free services.

People helping people is a guiding principle of the credit union philosophy. Suncoast believes that we are not only stronger, but we are also better when we weave the spectrum of our differences together. The result is a rich and resilient, forward thinking way of solving complex problems in the workforce and in our greater community. To us, this means providing equitable support and opportunities to all of our members and employees.
Values
Growth

Personal and professional; Ongoing process of understanding and developing oneself in order to achieve one's fullest potential; Rising to the call of bettering yourself for the benefit of the whole. SCU can be a career, not just a job.
Company Snapshots