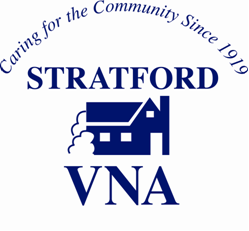 Stratford VNA
Stratford VNA
We are a state licensed, Medicare certified, home care agency. We provide skilled nursing, physical therapy, occupational therapy, and speech therapy. In addition, we provide home health aide services and medical social work services. We are a non-profit, independent agency, named as one of the Top 100 Home Care Agencies in the country in 2019 for our clinical outcomes and patient satisfaction, and celebrated our 100th anniversary. We care for patients in Stratford, Bridgeport, Fairfield, Westport, Milford, Orange, West Haven, Easton, Trumbull, Monroe, Newtown and all of the Valley towns through Naugatuck. Our highly trained staff are committed to providing quality medical care to patients in the comfort of their own homes. We are dedicated to giving patients the care they need to remain at home as long as possible. Our staff receive great satisfaction from helping patients meet their goals and work in an environment that allows them to focus on each patient individually.
Mission
To provide high quality, comprehensive health services to patients confined to their homes.
Additional Culture Details
We created our corporate values system or culture a number of years ago with different levels of employees from each department. It was a great team building exercise and is tailored to our specific needs. If anyone is not following the corporate values system, we all have a way to address it with each other in a non-threatening way. We call it our White Flag process. It puts all employees on an even level and issues can be discussed in a nonjudgemental way and resolved. It has served us very well since we implemented it.
Values
Customer service

respond to all customers with integrity and respect. The customer is the reason for our work. Comminicate with and educate customers to clarfiy realistic expectations, needs and achieve goals. We will acknowledge requests promptly and keep customers informed. We will consistently identify and provide tools for custoemrs to reach their maximum potential. A customer is anyone inside or outside we interact with, provide information or services
Company Snapshots