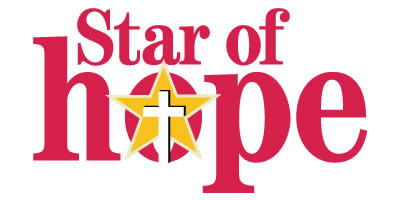 Star of Hope Mission
Star of Hope Mission
Star of Hope serves Houston's homeless men, women and children with the goal of moving them from homelessness to successful, independent and productive lives. In addition to housing, food and clothing, Star of Hope's client services also include:
• Health care – physical, mental and dental,
• Counseling – individual, group, family and spiritual,
• Educational assistance – adult classes, GED preparation and computer training, literacy, and job search and placement,
• Programs for career and personal development,
• State-licensed programs for substance abuse recovery.

Children (infants to 18 yr olds) receive a variety of targeted programs and services including:
• Childcare with structured educational curriculum and medical care including childhood immunizations, well-child checkups, and over-the-counter needs,
• School clothes, school supplies and backpacks,
• Educational tutoring, mentoring, and literacy programs
• Instructive, challenging and fun field trips and summer programs including overnight camp,
• Meaningful programs for at-risk youth and teens including life skills and college preparatory classes to benefit their future growth and help prevent generational homelessness and gang association.
Company Snapshots