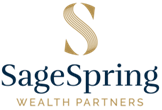 SageSpring Wealth Partners
SageSpring Wealth Partners
SageSpring Wealth Partners is a firm of ten offices and more than 160 employees dedicated to improving our clients' lives through comprehensive financial planning. Since 2002, our purpose has remained the same: to educate and guide our clients to reach their highest financial goals. We listen to our clients to understand their lives, creating sensible, holistic financial plans that put their best interests first.
Mission
From our humble beginnings in 2002 to today, we continuously take an integrated, long-term approach to help you plan your financial life and build wealth. We deliver more than help with investment decisions. We take the time to know and understand your entire financial picture while providing time-tested and steadfast money-management strategies that will help you reach the goals that matter to you.
Values
Core Focus

We're better together than we are alone (1 + 1 = 3)

We are redefining how to build, grow, enjoy, and transition a world-class financial planning practice.

We remove obstacles for financial advisors and coach them to be excellent servant leaders and team builders who lead lives of significance.
Company Snapshots