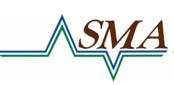 Souder, Miller & Associates
Souder, Miller & Associates
Souder, Miller & Associates (SMA) is an engineering, environmental and surveying firm dedicated to creating opportunities to make positive impacts with our clients in our communities, on our environment and for our future. SMA's expertise include transportation, roads and drainage; water supply and wastewater system design and operations; environmental studies and cleanup; surveying; construction management; renewable energy and regulatory compliance.
Purpose
SMA professionals include engineers, surveyors, geologists, scientists, grant administrators, environmental experts, project managers and applied technology specialists dedicated to making a positive impact for our clients, our communities, and the Mountain West region.
Mission
Souder, Miller & Associates (SMA) is a Client Focused Engineering, Environmental and Surveying professional consulting services firm that provides the framework for employees to achieve more as a team for the betterment of our clients, our communities and the environment.
Provide a high quality product
Provide technically competent resources to result in a superior project for our clients.
Be profitable
Develop and work within markets that allow growth and profit; continuously analyze and improve how we work to be as efficient as possible.
Enjoy what we do
Personalize our job for each employee. Provide technical challenges; take advantage of opportunities for growth (individually and as a company); work well with the clients; work as a part of a team; and keep the work place fun.
Additional Culture Details
SMA Pledge: Stronger Communities by Design is our pledge to those we serve that our work is approached with intentionality to design solutions that make our communities more resilient.
Values
Stronger Communities by Design

Company Values:
DIVERSITY (DEI): Promote an inclusive environment where we respect the differences each person brings to a solution and promote employee equity based on performance.

ETHICS: Realize the benefits and improved outcomes from conducting business respectfully and honestly.

SUSTAINABILITY: Balance the long-term needs of our communities with our actions today by considering the stakeholder, financial and technical impacts of every strategic decision.

INTEGRITY: Foster high-value relationships through dependability, accountability and by communicating with respect, clarity and a measure of humility.

GROWTH: Provide opportunities for employees to actively participate in building the SMA community, recognize the hard work and value of our employees to this growth, and support them in their own personal development.

NATURE: Be inspired by and respect the natural world we live within by responsibly balancing the opportunity and cost of the services we deliver.