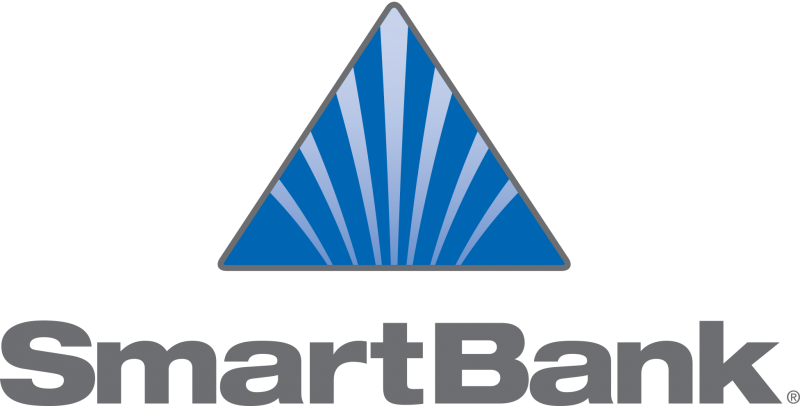 SmartBank
SmartBank
SmartBank emerged in January 2006, when long-time executive bankers Bill Carroll and Billy Carroll decided to start the process of organizing a bank with the image, values and service level that would become incomparable to any other bank in the market. SmartBank opened its first office in January 2007 in Pigeon Forge, Tennessee. Today, SmartBank has 35 branches serving clients in Tennessee, Alabama and the Florida Panhandle.
Recruiting the best people, delivering exceptional client service, strategic branching and a conservative and disciplined approach to lending have all given rise to SmartBank's success. At SmartBank, we are committed to creating a better bank, and we will continue to work hard and capitalize on opportunities that build value for our shareholders, clients and associates.
Vision
to build exceptional value for our brand and for our shareholders, associates, clients, and communities by delivering more than they think possible.
Mission
We build exceptional value for our SHAREHOLDERS by managing growth and maximizing profitability, return on investment, stock value, dividends, and liquidity. We build exceptional value for our ASSOCIATES by fostering a more fulfilling environment that respects individual needs, establishes high expectations and recognizes achievement. We build exceptional value for our CLIENTS by demonstrating incomparable care for their needs and increasing their financial wealth. We build exceptional value in our COMMUNITIES by providing lasting solutions to their problems and protecting their greatest assets. We've achieved this through the integrity and innovation of our Associates and directors – it's THE SMARTBANK WAY.
Values
Integrity

Act With Integrity
Headquarters
Knoxville, TN
Employees
497 US Employees
We're Hiring!
What employees are saying
The atmosphere is happy and inclusive. Even the hectic days aren't too bad, because everyone keeps a positive outlook. I immediately felt welcomed and included when I started. I do not have previous banking experience, and I have never felt like a burden with my questions or lack of knowledge. I am strongly encouraged and supported on my journey to learn and grow within this company.
The culture of all employees being all in on our mission and values. It starts at the top.
The environment is like none other I've ever worked in. It's calm, friendly and I really enjoy coming to work. My manager is fair and understanding and shows us so much encouragement and pride. SmartBank has made me feel like what each individual does in the work place matters.
I feel validated by my supervisor and feel my work is important to the organization.
I am allowed to perform at peak and are very appreciated for my knowledge and abilities
Everyone I work with is so positive and uplifting. We have one another's back at all times, and willing to step up and help one another when needed.
I love what I do and I love the people I work with. All are so helpful and are willing to be there when needed.
I feel my skills are valued, my work ethic appreciated and those I work with are respected.
SmartBank is the best company I have ever worked for. Upper management is great and keeps us informed on things that are coming, they are always very helpful. Anytime I have had to contact another department for assistance they have been very helpful as well. It's a good feeling to know that when you need help there is someone that is willing to help you.
The opportunities provided by SmartBank give me the opportunity to excel in both my career and home life.
Company Snapshots