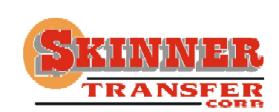 Skinner Transfer Corp
Skinner Transfer Corp
Skinner Transfer Corp based in South Central Wisconsin since 1932 serves the Freight Transportation needs of customers through its Asset and Brokerage divisions. We are a dynamic family-owned transportation company, founded and managed according to family principles, where knowledge, skills, and commitment to the achievement of performance excellence are valued.
Purpose
Skinner Transfer's purpose is to provide deliveries timely, and at a fair price.
Vision
Skinner Transfer Corp's vision is to continually improve to make this the best place to work for our employees and provide the best possible service to our customers.
Mission
Skinner Transfer Corp and its employees will provide our customers with reliable, quality service, making timely deliveries at a profitable and fair price. Through a process of continuous improvement, Skinner Transfer Corp's goal is to provide a positive working environment where its employees and customers can benefit from a well-managed company.
Additional Culture Details
We are a family orientated company, with 90+ years of experience.
Values
Integrity and Ethics

Doing the right thing, in an honest, fair, and responsible way!
Company Snapshots