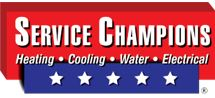 Service Champions Heating and Air Conditioning
Service Champions Heating and Air Conditioning
When you step in the door at Service Champions you'll feel the energy, passion and kindness of all of our employees because we hire for attitude and train for skill. We believe in hiring the best: those who have a passion for personal and professional growth and who understand the value of individual and team performance. Every day our Employees are proud to be a Champion!

If you are looking for a career with growth potential, paid training and so much more, join our team today!
Purpose
Inspire and Aspire. Build a wildly successful High Performance Team and Business; and offer Abundant Opportunities to Grow. We are a connected Winning Team, with a unique, healthy culture that drives a successful, growing business. Our success creates opportunities to invest significantly in our team members- and build a better future together.
Mission
Our technicians are polite, courteous, drug tested, background-checked, with clean uniforms, shirts tucked in correctly… even fresh breath. This is what sets us apart from our competition. We sell the same furnace as the guy across town. The difference is your experience with our service – and we're here to serve you.
Values
Be Kind and Encouraging

We genuinely care for others and their overall well-being. We are great listeners and we use our words to inspire and build people up.
Headquarters
Pleasanton, CA
Employees
345 US Employees
Industry
Heating, Ventilation, Air Conditioning, & Refrigeration
We're Hiring!
Company Snapshots