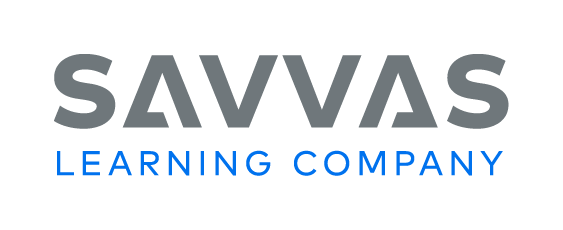 Savvas Learning Company
Savvas Learning Company
At Savvas, we believe learning should inspire. By combining new ideas and new ways of thinking and interacting, we design next-generation learning solutions that prepare students to become global citizens in a more interconnected, digital world. Formerly Pearson K12 Learning, Savvas carries on a longstanding tradition of innovation and leadership in K-12 education. We take pride in developing the highest quality curricula used by more than 40 million students in over 10,000 school districts and 125 countries. Developed by leading authors and educators, our award-winning programs leverage the power of advanced technology to deliver immersive, personalized, and flexible content that connects teachers and students with real-world learning experiences. Our digital solutions are powered by Savvas Realize™, one of the edtech industry's most versatile learning management systems, which provides sustainable, equitable digital solutions so students can maximize their learning anytime, anywhere.
Employees
1,311 US Employees
Industry
Education - Other
We're Hiring!
What employees are saying
We are making a difference in the lives of children and young adults. We are part of a family at Savvas Learning and that makes you feel good about your job and what you do.
I'm part of a growing company with good values. I'm happy to be involved in providing the education for our children. And I'm able to do it in a supportive and flexible environment.
I feel valued. Truly. I feel valued by my manager and my team, as I believe they care what I think and listen to my opinion. I feel like my input matters. I also love the fact that our company has a higher purpose: to help facilitate teaching and learning for all students. It feels good to know that we have a direct impression on young people.
The leadership and employees share a common vision and mission to help learners and educators.
it allows me to be a part of something bigger and engage with intelligent, passionate and committed co-workers who genuinely believe in what they are doing.
I get to work with people who care about teachers and students.
I love the teams I work with and my supervisors - they all make me feel as if I'm an important member and contributor to this company.
The culture encourages everyone to showcase their unique talents and express their opinions. There is a strong sense of teamwork. Savvas believes in empowering individuals and encourages everyone to grow in their positions.
I feel like I'm part of something special. From the connection to everyone in my department and everyone else in the company
Every day presents a new opportunity and I can make a positive impact to the outcome.
I am happy and honored to work for a great company with amazing coworkers/management that recognize, acknowledge and appreciate the work that I do. I love my job because of the products they provide for ALL students regardless of their background or economic status.
I feel appreciated and empowered to suggest changes to do things more efficiently.
I feel comfortable amongst my co-workers and I have an interest in my work and the desire to learn more. It is also a very welcoming atmosphere for learning a new job.
Savvas has been so wonderful to me. I have been able to grow more knowledge tremendously with the help of my manager.
I am appreciated for the contribution I make to my team. I work in a positive and productive environment. I have great leadership team. I feel like I am making a difference.