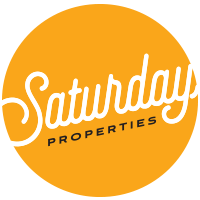 Saturday Properties
Saturday Properties
Saturday Properties builds boutique properties and provides management for the leading assets in the market.

Saturday was formed around the philosophy that the most
successful properties incorporate a creative approach to
project design, operations, staffing and marketing from
the very start of the process. Developers at heart, we manage each property with that same attention to detail and critical eye. We are constantly pushing the boundaries of the industry to provide an exceptional resident experience and increase the value of our buildings.
Purpose
Our passion is to develop people and buildings that deliver the Saturday Experience.
Vision
Our vision is to keep the right people in the right seats who are committed to achieving our Company goals.
Mission
Saturday was founded by Brent Rogers in order to build boutique properties and provide management services for the leading assets in the market. Brent has over 15 years of experience in development and property management.

Prior to forming Saturday in the spring of 2015, Brent was 50% owner and President of Greco Properties and led that company from a startup in 2007 to managing over 1,000 units with a staff of more than 60 employees.
Values
Be Helpful and Be a Team Player

Be helpful to your teammates, residents, clients and everyone you encounter. Recognize that every person on our team adds value and drives this company forward. Find a way to work together to win!