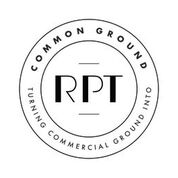 RPT Realty
RPT Realty
RPT Realty is a leading, publicly traded owner and operator of diversified open-air shopping centers across the U.S. RPT is committed to understanding and engaging with each of the communities it serves – and this philosophy applies internally as well. In the same way RPT understands the unique needs of its communities, the firm seeks to deliver on the individual needs of its employees and teams to help them realize their professional and personal goals. What drives RPT's measurable success as a leader in the commercial real estate and retail sectors is the empowerment of RPT's workforce to be creative and the trust it puts in its people to make their own choices and be professionals, while understanding that every person works uniquely and has different goals, priorities and situations. Whether it is through generous benefits packages, new team-focused workplaces, career empowerment initiatives or an organizational commitment to helping the community, RPT believes that employee freedom is the key to a thriving and effective team.
Purpose
Turning Commercial Ground Into Common Ground.
Vision
RPT envisions a world where new properties build communities rather than divide them. A core focus of our growth strategy is to incorporate the best environment, social and governance practices throughout our organization.
Mission
RPT is here to bring people together. To curate sustainable, well-maintained spaces where people enjoy gathering. Selecting the right mix of stores, restaurants and exercise destinations that facilitate thriving community.
Additional Culture Details
RPT makes a real investment in its communities.

Internal community: creating a familial feel where employees' voices are valued, open-air office plans encourage collaboration and policies are put in place to create a relaxed environment where people can thrive.

Communities of its properties: selective about tenant mix based on local demand, thoughtful about community upkeep, dedicated to beautification with an emerging emphasis on sustainability.

TRANSPARENCY, HONESTY & ACCOUNTABILITY
These principles are essential to building trust and strengthening relationships with the leasing and investment communities.

DIVERSITY
We believe our diverse employee pool sets us apart by fostering creative thinking and new ideas that have allowed us to continue innovating and producing for our stakeholders.

INTEGRITY
We pride ourselves on being widely-respected and well-regarded within our industry. From operations to leasing, design and development, and accounting and reporting, we act with integrity in everything we do.
Values
Being Bold

We passionately pursue out-of-the-box thinking and are open to changes that will benefit all of our stakeholders. We celebrate creativity and embrace curiosity as the foundation for new ideas.
Company Snapshots