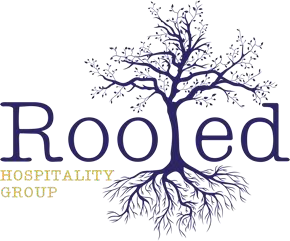 Rooted Hospitality Group
Rooted Hospitality Group
Rooted Hospitality Group (RHG, or Rooted) is an award-winning, Long Island-based restaurant hospitality company that has been exceeding guest expectations for 10 years. Founded in 2009 by David and Rachel Hersh, the company began with a dream to create a gathering place that paired sun, soft sand, and refreshing breezes with good drinks, chef-driven food, and great company. It has grown into a multi-million dollar restaurant group, creating some of Long Island's most beloved restaurants and bars, which all offer the company's signature warmth and hospitality.

RHG operates under the highest attention to service and a dedication to delivering a superior guest experience - something they call "Hospitality DNA." As industry leaders, RHG also specializes in consulting services in restaurant and hospitality providing customized solutions to each.
Values
Rooted Values

We believe that a commitment to uncompromising values and integrity should always guide our decisions and actions as we pursue our goals. Our restaurants can only prosper and provide opportunities for employment and growth when we continually work to improve ourselves and the work we do together. Sales, guest counts, and numbers alone do not—and cannot—measure success. We must also look at the way in which these goals are achieved.
Company Snapshots