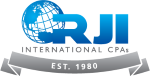 RJI INTERNATIONAL CPA's
RJI INTERNATIONAL CPA's
RJI CPAs was launched 40 years ago in 1980, when the Firm was built on international tax expertise, client service and business acumen. Since then, we have provided tax, accounting and consulting services to thousands of U.S. and international companies in a variety of industries.

The services offered by RJI CPAs have expanded over the years, but one thing has stayed the same; our dedication to providing insightful leadership, extensive industry experience and smooth implementation to our clients. In our role as trusted advisors, we have developed a reputation for handling the complex tax and accounting matters and business challenges that many companies face.

Our goal is to help you meet yours.
Purpose
RJI CPAs specializes in providing expertise and insights that help public, private and nonprofit organizations achieve their business goals.

Our deep industry knowledge enables us to understand what is happening in your industry and the challenges and opportunities available. We have a reputation for exceeding our client's expectations, which is why we have long-standing client relationships built on understanding and trust.

When you need deep financial expertise, extensive industry knowledge and global capabilities, choose RJI CPAs.
Additional Culture Details
Our employees are what makes RJI CPAs a great place to work, and we want to keep it that way. We are a strong team, supporting one another and working collaboratively. Ours is an environment that fosters talent, teamwork and growth. We strive to be the best at what we do, for both our clients and our employees. Work-Life Balance
At RJI CPAs, we believe a healthy work-life balance can be highly motivating and productive. We place an emphasis on building a team and working environment where individuals can succeed professionally and personally.

We offer health & wellness and community volunteering activities, as well as, social events to our team members. We have our own Fantasy Football League, March Madness tournament and enjoy activities together like bowling, taking a boat cruise around Newport Harbor and taking in the occasional Angels baseball game.

Our team members love a challenge, embrace our business, and thrive in a culture that includes hard work, camaraderie, and having fun.
Company Snapshots