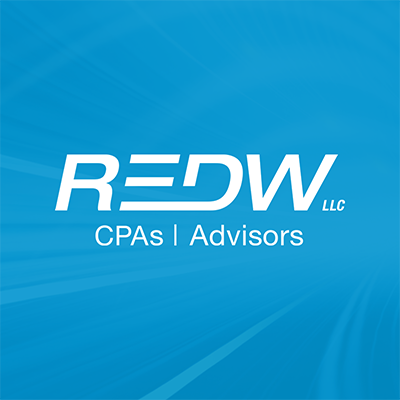 REDW
REDW
REDW's New Mexican roots are well established. We have been here for over six decades dedicated to creating rewarding professional careers for our team and producing meaningful outcomes for our clients.

Through the years, in good and less favorable economic times, REDW has remained true to its core values and strategic direction. We've grown to become one of the top five CPA financial service and advisory firms in the Southwest, by far the largest headquartered in New Mexico. The Firm's entrepreneurial, forward-thinking mindset, combined with its footprint expansion and a strong value-oriented culture, makes REDW an increasingly attractive destination for clients and ambitious professionals who seek a more efficient, yet sophisticated platform of delivering accounting, audit, tax and a wide range of financial and consulting services.

At REDW, we believe that we're "Better Together." Since our inception, this core value has been our guiding principle as we seek to grow, innovate, serve and support our community.
Purpose
We are passionate about making meaningful contributions in the lives of each other, our clients and our communities.
Vision
National Provider of premier client service with unique expertise.
Mission
To create an extraordinary professional experience for our clients and each other.
Additional Culture Details
At REDW, we embrace the concept that a diverse, inclusive workplace is not just good for the employees, but for the firm as well. A supportive work environment that cherishes out-of-the-box thinking and new ideas from different perspectives is good for business – because a happy employee is a confident one, eager to contribute and leave their mark.

We know from experience that a fun, supportive, and productive environment pays off for all involved. It leads to happier, more successful clients who enable us to grow, generate more jobs and more competitive salaries (and bonuses!) with more opportunities for promotion.

As a purpose-driven firm, we strive to make meaningful contributions in each other's lives and in the lives of the people and communities we serve. To do this, our employees need an environment where they feel appreciated, where their talents are utilized, and where their goals soon become accomplishments.
Values
We are better together

We communicate promptly with candor and curiosity and collaborate with passion and purpose. We practice humility, respect and kindness. We embrace diversity of thought and inclusion.
Headquarters
Albuquerque, NM
Employees
230 US Employees
Industry
Certified Public Accountants & Consultants
We're Hiring!
What employees are saying
REDW values the team and proactively seeks and provides professional development opportunities
I love to be able to work with clients and the great support I receive from the staff, other departments and management.
I have the chance to make a meaningful impact on our clients' life, and work with talented, smart people.
I love my job because of the great team we have and because we collectively are making a positive difference in the lives of others.
This is my first professional job. I had fears of going into public practice because of everything I have heard in school but this job is fantastic. I feel appreciate, I am challenged everyday, and of course the pay and benefits are much better than what I am use since I have been going to school for more than half a decade.
REDW has highly competent professionals in all departments, so we can bring a very wide range of high level solutions to clients.
The profession is ever changing and we make certain we have the resources to keep up with these changes and deliver an exceptional experience to our clients.
Flexible environment, focus on continuously learning environment and prospects for personal and professional growth
It provides me with the flexibility that I need in order to maintain a healthy life inside and outside of work. I also feel that I have the trust I need to complete my work without being micromanaged.
It allows me to test my limits, provide a wide range of services to clients and help train/encourage new staff