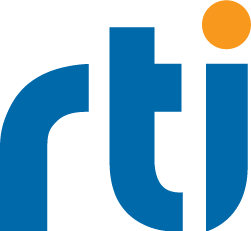 RTI
RTI
Real-Time Innovations (RTI) is the Industrial Internet of Things (IIoT) connectivity company.

The RTI Connext® databus is a software framework that shares information in real time, making applications work together as one, integrated system. It connects across field, fog and cloud. Its reliability, security, performance and scalability are proven in the most demanding industrial systems. Deployed systems include medical devices and imaging; wind, hydro and solar power; autonomous planes, trains and cars; traffic control; Oil and Gas; robotics, ships and defense.

RTI is the largest vendor of products based on the Object Management Group (OMG) Data Distribution Service™ (DDS) standard. RTI is privately held and headquartered in Sunnyvale, California.
Purpose
RTI's primary purpose, since its founding, is to enable and realize the potential of smart machines to serve mankind.
Mission
Our mission is to enable the transformation of entire industries and to unleash the value of distributed real-time information. By enabling a new generation of intelligent distributed systems, RTI boldly seeks to transform entire industries. We particularly seek applications that promote a sustainable, safe, green, and healthy planet. So, what do we do? Simply put, RTI connects smarts to distributed systems. We work in today's most exciting industries: autonomous cars, smart medical systems, green energy, unmanned planes. Our software intelligently runs the largest power plants on the continent, connects perception to control in vehicles, drives the new generation of medical robotics, controls hyperloop and flying cars, and provides 24x7 medical intelligence to hospital patients and emergency victims. We are making the world greener, safer, faster and flat-out cooler.
Additional Culture Details
Culture

At RTI we really love, and strongly protect, our culture – casual yet professional, and an interesting mix of personalities, experience and interests. We find that a range of employee perks, such as work-day lunches, well-stocked kitchens, Lunch & Learn trainings, ping-pong tournaments, off-site events, unlimited PTO and holiday celebrations allow us to enjoy time together and away from work. We believe it's important to work hard and play hard as well.

One of our most unique attributions is our employee–to–employee Hero Rewards program. Employees can give out a Hero Reward worth a certain amount of money which the recipient can redeem for any gift card or RTI merchandise of their choice! We also promote team-to-team awards through our "Working as One" quarterly awards. These programs encourage us to appreciate, recognize and acknowledge our co-workers' efforts. Internally, we call it "1rti" and it means that we are stronger working as a team than we are as individuals.




Company Snapshots