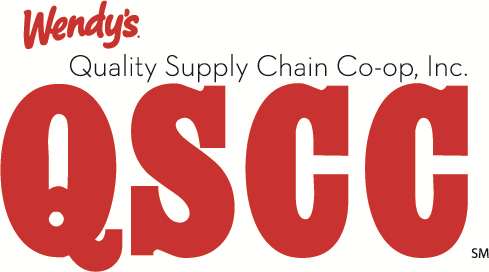 Quality Supply Chain Co-op, Inc.
Quality Supply Chain Co-op, Inc.
QSCC is the independent purchasing cooperative for Wendy's restaurant operators in North America. We are the second-largest (and the best) purchasing cooperative in the quick-service restaurant industry with nearly $4 billion in buying power. We are also part of the Wendy's extended family. QSCC associates are passionately dedicated to supporting our members and the Wendy's system. In the proud tradition of Dave Thomas who taught us to always "Do the Right Thing" and "Give Something Back", QSCC actively supports many community assistance agencies on both the local and national levels. Our leadership team members serve on the board of directors for organizations such as The Dave Thomas Foundation for Adoption and the Mid-Ohio Foodbank.
Purpose
To provide our members with the highest quality Wendy's-approved products at the best value.
Vision
To be a premier supply chain cooperative driven by exceptional member service... continuous improvement... dedicated associates... and collaborative relationships.
Mission
Deliver a continuous supply of products and services that achieve Brand and member expectations... at the best value... guided by 'Dave's Way.' "
Additional Culture Details
The associates at QSCC understand the power of building positive, authentic relationships. We believe that every business is a "people" business and everyone on our team understands the imperative to treat every person with respect and dignity—whether we are interacting with our members, our supplier partners, or our fellow associates. This facet of our culture is passionately role-modeled at the top by our CEO and embraced in every corner of the organization.
Values
Transparency

We share all relevant information with our stakeholders