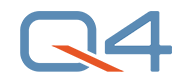 Q4 Services Inc
Q4 Services Inc
Q4 Services, Inc. is high performance supplier of technically innovative and unique visual solutions for the military and commercial simulation and training industry. As a market leader, Q4's flexibility, cost-effectiveness, and the ability to design and manufacture in-house, provides high products that are quick to ship, and fast to install.
Q4 has delivered fully integrated collimated display products; rear and direct project screens and domes; and projector upgrades in North America, South America, Europe, Asia and Australia. Q4 provides a suite of aftermarket services such as mirror reskin services, mirror upgrades and simulator relocation and certification services.
Q4 offers a depth of experience and expertise that is unmatched in the industry. Leveraging superior customer service, agility and flexibility, Q4 can meet or exceed clients' expectations.
Vision
To establish Q4 as the recognized leader in the manufacture of high quality, high fidelity visual display products and delivery of services supporting Simulation and Training environments through mutually beneficial collaboration with our stakeholders (customers, vendors, employees and our community).
Mission
To provide superior quality and cost effective Simulation and Training products and services for the global high fidelity air, land and sea training environments through collaborative and mutually respectful relationships with our customers, vendors and employees.
Values
EXCELLENCE

A commitment to encourage continuous improvement, reward individual performance, deliver the highest quality products and services.