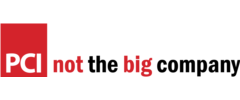 PCI
PCI Overview
In 1921, Rockwell Clancy founded the nation's first alumni directory publisher, the Rockwell F. Clancy Company. Over the years, three generations of Clancy's have helmed the company that would become PCI, staying true to a single goal: Not to be the biggest, but to be the best.

And here we are. These ideals have taken root and formed notthebigcompany. Why notthebigcompany? Because The Big Company is the antithesis of everything we don't want to be. Big. Impersonal. Disengaged. Mindless. No, thank you.

Notthebigcompany is our Culture. Our philosophy. The way we do business. The way we live our lives. It lives in each and every one of us. It's what makes us special and what sets us apart. We are serious about it and even more serious about protecting it. It's the reason we are a perpetual presence on Best Place to Work lists in every state where we have offices. We're proud of that. It says something.

Today, Drew Clancy is our President. He sets the tone and leads our charge, and his voice guides us daily.
Purpose
We Inspire Dreams and Transform Lives
Vision
To be recognized on fortune 100s best companies to work for
Mission
Every client should be referenceable
Additional Culture Details
Our Promises:
BE PROACTIVE BE ACCOUNTABLE BE TRUSTWORTHY BE POSITIVE BE PASSIONATE
Values
Pursue EXCELLENCE Purposefully

If it's worth doing, it's worth doing RIGHT. Fearlessly challenge the status quo. Experiment. Strive to make a difference. Hold high standards for yourself and others. Be intentional. Get better at getting better.

Unlock HUMAN POTENTIAL

Act with INTEGRITY

We require honesty and integrity in everything we do. Demonstrate transparency, trustworthiness, authenticity and stewardship. Build trust. Make and keep commitments.

Innovate a CULTURE of Relationships and Fun

Build great and lasting relationships that connect people and make work meaningful and fun. Pioneer a thankful community that celebrates gratitude, storytelling, and recognition. Choose to be positive. Optimism and resilience are force multipliers.

Lead with a SERVANT'S HEART

Serve clients and one another with kindness and love, while holding yourself and others accountable. Listen first. Seek to understand. Start with, "How can I be of service?" Ask: Are those you serve healthier, wiser, freer, more autonomous, and more likely to become servant leaders themselves? We are all leaders. Together we make our notthebigcompany culture.
Awards
Top Workplaces Regional Awards
Company Snapshots