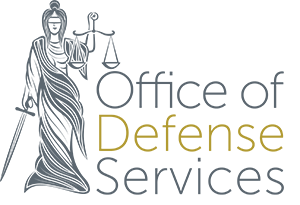 The Office of Defense Services
The Office of Defense Services
The Office of Defense Services preserves the constitutional rights of indigent defendants through the assistance of counsel in criminal cases at every stage of the adjudication process from arrest through appeal including violations of probation and sentence reviews. The Office of Defense Services, as an officer of the court, has the professional duty to assist the court in every reasonable way in the improvement of justice. The office is made up of three branches: Central Administration, the Public Defenders Office, and The Office of Conflicts Counsel.
Purpose
To represent indigent people charged with a crime in Delaware.
Vision
Create and sustain a fairer criminal justice system for all.
Mission
Provide effective, quality criminal defense to Delaware's indigent population.
Company Snapshots