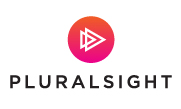 Pluralsight
Pluralsight
Pluralsight is a technology learning platform that empowers CIOs, CTOs and their teams to gain a competitive edge and succeed in the digital age. With adaptive skill tests, customized learning paths, expert-authored courses, interactive labs and live mentoring, Pluralsight helps enterprises learn and adopt the most critical technologies faster. Organizations around the world, including 60% of Fortune 500 companies, partner with Pluralsight to acquire the latest technologies skills and deliver the next big innovations.

With Pluralsight, CIOs, CTOs and technology leaders can align specific skill sets to relevant projects, support business objectives and drive the company's next phase of innovation on time, on budget, and securely. The platform also gives technology teams the ability to learn and acquire the latest skills directly from world-renowned industry experts on important trending topics like cybersecurity, big data, cloud, and AI.
Vision
Democratizing technology learning.
Mission
Creating progress through technology that lifts the human condition.
Values
Committed to something bigger

Our mission comes first and we believe in the power of shared purpose. The work we do is collaborative, dedicated and empowering. We acknowledge others and recognize the power to create and make an impact exists in everyone.a
Company Snapshots