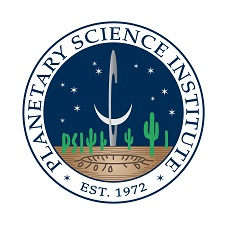 Planetary Science Institute
Planetary Science Institute
The Planetary Science Institute is a private, non-profit 501(c)(3) corporation dedicated to Solar System
exploration. It is headquartered in Tucson, Arizona, where it was founded in 1972.

PSI scientists are involved in NASA and international missions, the study of Mars and other planets,
the Moon, asteroids, comets, interplanetary dust, impact physics, the origin of the Solar System, extra-solar
planet formation, dynamic evolution of planetary systems, the rise of life, and other areas of research.
They conduct fieldwork on all continents around the world. They also are actively involved in science
education and public outreach through school programs, children's books, popular science books and art.
Purpose
The Institute's culture and the way it operates are guided by a set of core principles:
- Creating an environment within which the ambitions of scientists and educators can be pursued and realized. Advancement of our vision can only be achieved by the initiative of our scientists and educators.
- Maintaining a culture of community and mutual support among our scientists, educators, and staff. Everyone within the Institute is respected by everyone else. Collaboration is emphasized. Sharing knowledge, experience, and ideas is valued. Mentoring is encouraged.
- Compliance with government regulations and statutes.
- Integrity. The Institute and its employees will always act with honesty and integrity in their internal and external dealings.
- Maintaining awareness of PSI's internal strengths and weaknesses and of external opportunities and challenges.
- Maintaining an egalitarian organizational structure. No person receives special treatment or consideration. People are valued for what they do and contribute, not for their title or seniority.
- Sustainability and stability are emphasized to provide long-term viability of the Institute. This includes facilities, projects, and hiring, with attention to ensuring affordability and minimizing volatility.
- Transparency. When institutional information is conveyed, it will be complete, accurate, and designed for accessibility.
Vision
PSI strives to be a leading institution in:
- All areas of planetary system exploration, from basic research and data analysis to spaceflight missions;
- Advancing science education and science literacy;
- Supporting and expanding human space activities that benefit from and advance knowledge of the solar system; and
- Informing policy impacting the future of solar system exploration.
Mission
The Planetary Science Institute studies the origin, characteristics, and evolution of planetary systems, including our solar system, Earth itself, and planetary systems around other stars. We convey the resulting knowledge to the scientific community, and to the public at large to promote science education and science literacy. We further use this knowledge to advance human activity in space and shape the future of robotic exploration of the solar system.
Additional Culture Details
PSI is the largest non-governmental employer of planetary scientists in the world. PSI scientists and educators are based in 31 states and the District of Columbia, as well as Australia, Canada, Germany, India, Israel, Latvia, New Zealand, Russia, Serbia, South Africa and the United Kingdom. As of 2020, 45 percent of PSI Principal Investigators are women. In 2014, PSI was ranked 20th in the nation for workplace efficiency and flexibility among US corporations by the Families and Work Institute and the Society for Human Resource Management.
Values
As members of the Planetary Science Institute, we commit to the following:

We are a community dedicated to excellence in our work and helping each other to be successful in our professional and even personal endeavors. We strive to create a positive, engaging and supportive work environment that enables all staff members to reach their full potential. We value each other and our families. We value everyone's knowledge, perspectives, skills and opinions - even when we do not agree with them. We listen to each other. We are honest with each other. We always treat each other with dignity and respect. We resolve issues constructively with a sense of how we would like to be treated and will reach out to Human Resources for help when needed. We take pride in each other and celebrate our accomplishments. We support each other in adversity. We recognize our shortcomings and are always looking to improve. Together we can accomplish amazing things.
Company Snapshots