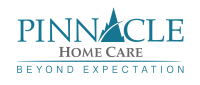 Pinnacle Home Care
Pinnacle Home Care
Pinnacle Home Care is a clinician owned and operated home health agency locally serving Hernando, Hillsborough, Pasco and Pinellas counties in the Tampa Bay Area. Pinnacle Home Care also services Brevard, Broward, Charlotte, Citrus, Collier, De Soto, Dixie, Gilchrist, Glades, Hardee, Hendry, Highlands, Indian River, Lake, Lee, Levy, Manatee, Marion, Martin, Okeechobee, Orange, Osceola, Palm Beach, Polk, Sarasota, Seminole, St. Lucie, Sumter counties throughout the State of Florida.
Vision
Be the leading provider of home care services recognized for Creating Raving Fans and delivering Exceptional Outcomes
Mission
Changing lives through the Art of the Experience
Additional Culture Details
We know that if we have the right people as part of the team and they live our values, the experience we create for any of our stakeholders will exceed their expectations and the overall success of the organization will follow. At Pinnacle Home Care we know that a Home Care company can either be an Employer of Choice or an Employer of Chance for someone wanting to work in Home Care in one of the areas that we service. An Employer of Chance, though, is not selective in whom they have on their team and may at times fill a role with a person who could do the job and is available now, but may not necessarily be the best person for the job.

We push ourselves each day to be the Employer of Choice for the person that wants to work in Home Care in any of our operating areas and be excellent at what they do. This includes both individuals that potentially may become our employees as well as continuing to be the Employer of Choice each day for those that are already on our team. An Employer of Choice has a higher level of engagement within their staff, consistently works towards being an industry leader in turnover and has results that follow due to their employees wanting to be a part of the team and celebrate the successes along the way together.

Each Value has a series of I statements that reflect what living the value means and can be found below:
Appreciation (Have an Attitude of Gratitude)
1.    I find reasons to Acknowledge the good work of Others
2.    I Promote and Celebrate Successes
3.    I Value and Embrace the opportunity to Serve

Attitude (Be Phenomenal)
1.    I will Treat others as They would wish to be Treated
2.    I will be Enthusiastic and Optimistic in Words and Actions
3.    I will engage in a Respectful exchange of ideas

Integrity (Walk the Walk)
1.    I will Speak of someone in their Absence only the words that I would use in their Presence.
2.    I will seek the Facts and Never Assume
3.    My Work is my Signature, I will sign with Pride

Culture of Discipline (Disciplined People, Disciplined Thought, Disciplined Action)
1.    I will Master my Craft… and Own it
2.    I Commit to Live and Trust the Process
3.    I am Responsible for my Outcomes

Beyond Expectation (Find The Way)
1.    I have the Heart to Create Life Changing Experiences
2.    I will be a Champion for Excellence in all that I do
3.    I will Inspire and Encourage Greatness

Values
Appreciation

Have an Attitude of Gratitude
Employees
819 US Employees
Industry
Home Healthcare Services
We're Hiring!
Company Snapshots