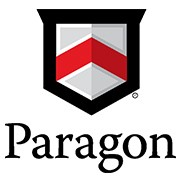 Paragon Bank
Paragon Bank
Paragon Bank was founded in Memphis with the mission of becoming a local financial partner rooted in Memphis and focused on friendliness, relationships, helping our customers reach their financial goals and making life better in the communities we serve. Along the way we have built a team of respected bankers who share a common vision. We are a local partner who really cares about the success of our customers and the community. Over the years our friendly, civic-minded style has attracted loyal customers and numerous awards for being the area's best community bank and a best place to work. And, after 17 years we're still rooted in and rooting for Memphis!
Vision
We will provide integrated financial services.
 We will be diligent in recruiting only those individuals who we believe will be
true to our core values.
 We are dedicated to serving our clients with superior sales and service
practices.
 We will employ conservative risk and resource management practices.
 We will make business decisions with a long-term perspective.
 We will use the best technology and systems to accomplish our mission.
 We will provide an enriching, refreshing, challenging work environment.
 We will foster healthy and open communication on all levels.
Mission
The Paragon Bank mission is to make a difference by:
 Attracting, developing and retaining high-performing, team-building
professionals
 Building loyal customer relationships that exceed customers' expectations
 Creating exceptional value for our shareholders
Values
Integrity

Act with honesty and integrity at all times
Company Snapshots