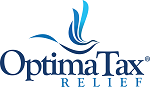 Optima Tax Relief
Optima Tax Relief
Optima's team provides assistance to those individuals struggling with unmanageable IRS and state tax burdens by offering full service tax resolution services for almost any IRS or state tax issue. The Company's mission is to obtain the best possible result for each client's specific situation, making their tax issues a thing of the past and providing a better financial future. Optima has pioneered a unique two-phase approach in the tax relief industry which provides consumers more clarity into their resolution options.
Purpose
Optima's purpose is to help people. For our clients, this means helping individuals and businesses improve their financial health by helping them resolve hardships caused by IRS and state tax debts. For our employees, it means fostering a supportive, inclusive, and fun environment that empowers staff to thrive professionally and personally. In the community, it's reflected in through or deep and long-running engagement with local charities and non-profit organizations, such as Orangewood Children's Foundation, local chapters of Make-A-Wish Foundation, Autism Speaks, the Child Abuse Prevention Center, and the Lakeview Senior Center in Irvine. We support these and other community groups through financial donations as well as through our company's Volunteer Hours Program, which provides staff paid-time off for volunteering at local charities.
Vision
Optima aims to be the gold standard in our industry and to be a leader in the socially responsible corporate citizenry. As reflected in the first line of our company's Core Values statement – "Aim for excellence. Every client. Every time. No exceptions. No excuses." – we're committed to delivering the best for our clients. And this unwavering dedication to excellence extends to our approach to our employees and the community-at-large. We aim to lead by example, adhering to founding principles of integrity, transparency, and social responsibility. It is through these values that we have been able to help thousands of clients improve their financial situations while simultaneously providing empowering, positive impacts on the lives of our employees and the people living in the broader community around us.
Mission
Through a steadfast commitment to integrity, transparency, and Optima's mission is to deliver the best possible results for our clients, staff, and the community at large.

Our unwavering commitment to excellence is our "secret sauce," the undergirding that enables us to be the bridge that connects our clients to better financial futures. It is why we are successful in solving tax problems for thousands of people every year, and how we've been able to resolve over a billion dollars of tax debts for our clients since our inception.

We are equally dedicated to delivering excellence to every employee as well. Going beyond providing great compensation and benefits, we have a formal Culture and Fun Committee (CFC) which meets monthly to plan dozens of activities and initiatives that give Optima an unbeatable culture of camaraderie and employee satisfaction. Comprised of employees that cover the departmental and hierarchical spectrum of the company, the CFC is explicitly tasked with being a wellspring of infectiously positive, inspiring culture that nurtures staff professionally and personally. A sampling of the initiatives includes: staff-and-family trips to theme parks, holiday parties, implementing suggestions from staff, facilitating employee training programs, sponsoring employee sporting activities, creating staff health and wellness programs, and conducting monthly fundraisers on behalf of local charities.

Optima is a rich tapestry, with our staff coming from many different countries, cultures, and backgrounds. But there's one thing we all share: a passion for helping our clients, our colleagues, and the community-at-large.
Additional Culture Details
Voted one of the Top Workplaces and Best Places to work in OC and #1 fastest growing financial services company by Inc Magazine, we strive to have great work/life balance for our employees. We have amazing employees and they enjoy working here because we recognize years of service, employees of the month, and promotions in our fun monthly newsletter that has many great culture boosting items included in it and also have on the spot rewards programs for items ranging from dress code, attendance, performance, and commitment to our core values. Monthly, we treat our staff to lunch and have a separate dessert day and also celebrate employees with their birthday in that month. We host annual ping pong, poker, and pool tournaments as well as organize amazing offsite events such as company picnics, trips to Knott's Berry Farm, bowling outings, middle management outings to Angel's games, senior management outings, and company sponsorship for events like mud runs, marathons, and other races.
Values
UPLIFT

We cultivate a positive culture of development and growth .
Company Snapshots