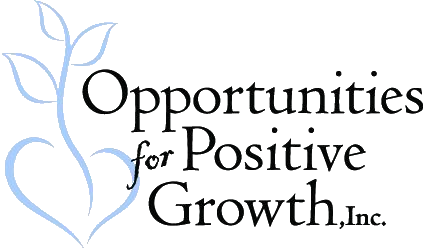 Opportunities for Positive Growth, Inc.
Opportunities for Positive Growth, Inc.
Opportunities for Positive Growth, Inc's mission is "Inspiring People in the Pursuit of a Rewarding Life." As a human service agency we are committed to providing meaningful and dignified support to individuals with developmental disabilities focusing on a person's skill development to improve the individual's quality of life.

We are certified through The Division of Disability and Rehabilitative Services (DDRS) and The Bureau of Developmental Disabilities Services (BDDS) for the state of Indiana to provide specific services for individuals with developmental disabilities. We also received a four year accrediation from the Council on Quality and Leadership (CQL).

We serve children, adolescents and adults with disabilities. Each individual has specific goal driven objectives to support living skills, self advocacy skills and individual growth.
Vision
People will always be at the center of why we exist. As a vibrant and sustainable organization, we strive for an inclusive community, abundant with people who are self-reliant.
Mission
Inspiring People in the Pursuit of a Rewarding Life
Additional Culture Details
Our Values: People, Innovation, Quality and Financial Stability
Employees
209 US Employees
Industry
Behavioral & Mental Health
We're Hiring!
What employees are saying
I love my job because I feel appreciated, valued and know I make a difference in the lives of others.
I love watching the people we support grow and achieve their dreams no matter how small they may seem to us, to them it is everything.
They trust me and want me to be the best and support me to do what I need to do.
I see people grow and expand their lives, whether people we support or employ. OPG cares about people.
I love my job because it is a great company. I have the flexibility I need in my schedule. The company cares for its employees and encourages growth. I am extremely happy at OPG!
I feel I am part of something bigger than myself. Management is caring and ethical.
OPG lives out it's mission of Inspiring People in the Pursuit of a Rewarding life with both the people we support and the employees. I feel that people at OPG from entry level positions to the CEO truly want me to succeed and grow as a person and an employee.
Supporting employees to provide the best services to people we support is very rewarding. Being a part of a company who's mission is bigger than the bottom line.
Everyone is focused on providing the best supports and helping each other along the way. It's a very collaborative and welcoming environment. I feel cared for and because of that, I am motivated to continue to give my best.
Company Snapshots