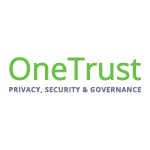 OneTrust
OneTrust
OneTrust is the fastest growing and most widely used technology platform to help organizations be more trusted, and operationalize privacy, security, and data governance programs. More than 7,000 customers, including half of the Fortune 500, use OneTrust to build programs that comply with the world's privacy and security laws. In 2020, OneTrust was named the #1 fastest growing company on the Inc. 500 with a 3-year revenue growth rate of 48,000%.

OneTrust is backed and co-chaired by the founders of Manhattan Associates (NASDAQ: MANH) and AirWatch ($1.54B acq. by VMware), led by our CEO Kabir Barday, a national EY Entrepreneur of the Year.

At OneTrust, our incredibly talented team and our culture combine to create something truly special. Our people are passionate and believe we're in a "do good" business. Together, teamwork and comradery help us meet the challenge. We make difference every day and create an environment where anything is possible - and we're just getting started.
Mission
Our mission is simple: build technology that helps organizations be more trusted. This mission has led us to pioneer an entirely new category of software that makes trust a competitive advantage for organizations.