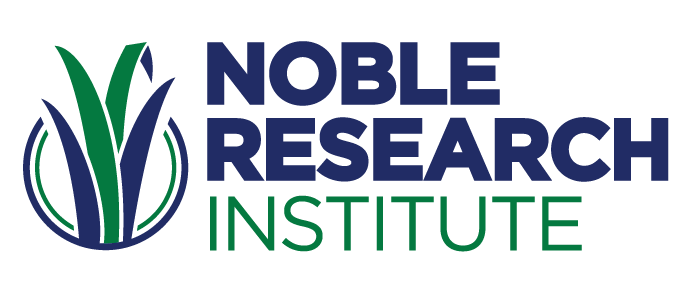 Noble Research Institute
Noble Research Institute Overview
Purpose
Remove, mitigate or avoid the barriers deterring the lasting use of regenerative, profitable land management practices in grazing animal production.
Vision
Achieve regenerative land stewardship in grazing animal production with producer profitability.
Mission
To deliver solutions to great agricultural challenges.
Additional Culture Details
We are scientists, consultants, collaborators, plant breeders, greenhouse assistants, agricultural economists, forage agronomists, beef producers, soils and crops specialists, wildlife biologists, biochemists, mycologists, genomicists, community members, teachers, life-long learners.

About 375 of us come together from more than 20 countries to work at Noble Research Institute to carry out the vision of Lloyd Noble.

Just like Noble, we hold a deep appreciation for agriculture and the people who produce our food. We combine our various backgrounds and expertise to find solutions to problems faced by farmers and ranchers. This, we believe, will produce lasting benefits for all mankind and the natural resources upon which we depend.
Values
Be noble

Be honest. Communicate. Appreciate others' contribution. Strive for excellence in every task. Take the opportunity to be exceptional. Treat others the way you want to be treated. Better mankind.

Build together

Success is a result of collaboration not standing alone. Look for new ways to unify efforts. Listen. Mentor. Seek to help those around you improve, and always recognize their accomplishments.

Begin with humility

Put others first. Shift your focus to those around you, and help them find success.

Never fear challenges

Be bold. Think beyond the status quo. Do not let the threat of failure or the perceived size of the challenge deter us from our goal. Seek to discover, dare to attempt something new, and look toward tomorrow with optimism.

Lead with passion

Advance the mission daily through your unquenchable desire for excellence. Serve as an example for others.

Put words into action

Knowledge for the sake of knowledge is not enough. Work to move ideas into solutions. Invent. Solve. Take action, and deliver even more than is expected.

Be responsible for tomorrow

Keep your commitments. Work hard. Create and maintain a safe work environment. Know that today's decisions affect tomorrow's outcomes.
Awards
Top Workplaces Regional Awards
Company Snapshots